Changing times call for adaptability, especially in terms of doing business. As our technology boosts efficiency, so should businesses. If you're like a smart business owner, you're always looking for ways to adapt and maximize efficiency and productivity.
Virtual teams can be a great way to get more work done with less stress, as many remote teams tend to be more efficient. Virtual teams tend to thrive with a good team leader who knows how to improve employee communication and collaboration. Plus, with the right tools in place, they can be just as effective as traditional teams, if not more. So how can Time Clock Wizard (TCW) help you develop a successful virtual team? Let's take a look.
Benefits of Virtual Teams vs. Regular Office-Based Teams
When it comes to the benefits of virtual teams, there are different angles one can look at. But one thing is for sure – with the right management strategy, you can get more out of your virtual team than with a regular office-based team.
From cost savings to improved employee retention rates, global virtual teams can allow businesses to access a wide talent that can bring varied skill sets to the table without needing office space. Creating virtual teams for your company also allows your workers to have a healthy work-life balance since they do not have to deal with unnecessary meetings and stressful commutes or drive to work. The loyalty rate in a virtual team is often higher than in a regular team, which is unsurprising if you have a space to bounce ideas around without fearing judgment and office politics. All the while, a virtual team offers increased productivity, which can be observed as employees take fewer days off, showing a high satisfaction level with work and working hours.
Regular in-office teams may provide benefits such as physical interaction, which helps people get to know each other better and get to see and understand each other's body language. However, a well-structured virtual team with the right partner (such as Time Clock Wizard) can provide all the benefits that in-office teams can, but then some. Let's break down some of the benefits of virtual teams and how TCW can be of help.
1. Cost Savings
Virtual teams can be an excellent way for global organizations to save money. They offer streamlined work schedules and 24/7 global team operations without the costs of maintaining global offices. With virtual teams, companies can save on office rental costs, transportation fees, and additional payroll expenses associated with employing in-office workers. By having an organized global virtual team utilizing the right tools, companies can save time and resources while still receiving high-quality services from remote workers.
Time Clock Wizard provides an innovative solution whereby it helps create global virtual teams and reduces the time spent on generating payroll and monitoring your virtual team so that the company is not burdened by HR services or tax computations. Employees are also given the ease of clocking in and out, even if they are working remotely. Partnering with Time Clock Wizard is what your company needs to effectively manage and reduce the overall costs of global virtual team operations!
2. Higher Loyalty Rates are Found in Virtual Teams
Higher loyalty rates are commonly found within effective virtual teams due to the benefits they offer, such as increased workplace flexibility, which makes employees more productive and satisfied with their work situation. But this will not happen without good management. Working remotely means that there may be cultural differences within individual team members or the entire team, which can cause misunderstanding and friction at work.
A good manager and employer strives to be engaging with each virtual team member by setting clear expectations, providing constructive feedback, and coaching for success. With the help of software such as Time Clock Wizard, employers can get real-time insights into each team member's progress and productivity for better management results and to provide better input for every individual team member.
Time Clock Wizard also comes with features such as time tracking, payroll processing, progress tracking, and project management, making it a great application to help employers become better managers of their virtual teams.
3. A Healthy Work Life Balance for Everyone
Having a virtual team in the workplace has benefits that businesses can access. Here's how a healthy work life balance can be achieved by having virtual teams:
There is less commuting time and fewer trips to the office, making schedules more flexible.
Working virtually enables employees to spend more time with their family, friends, and hobbies, resulting in improved levels of self-care and mental health.
It allows people to work from wherever they feel most productive.
Working virtually eliminates irritating distractions or elements of a physical office with a lot of people moving around.
With Time Clock Wizard's range of tools and features, it is easy to manage a virtual team building process by tracking attendance, scheduling shifts, instant messaging, and monitoring employee progress — all while allowing its users to remain connected without the need for physical meetings. As such, the benefits of virtual teams quickly become clear when you look at how much better it allows workers to manage their resources and overcome traditional challenges in the modern world of business. It is also clear that Time Clock Wizard is a promising partner for global virtual teams.
4. Increased Productivity
Working remotely has undeniable benefits for both employers and employees. Firstly, when employees work in their preferred environment, it can make them happier and, therefore, more productive. Additionally, remote working allows for 'workations', also known as taking your work with you on vacation. This is becoming much more frequent and not only makes working from home much more enjoyable but also leads to enthusiastic employees who are motivated and able to increase productivity for your business.
With the help of specialized time clock software for virtual teams like Time Clock Wizard, keeping track of team members' hours has become easier. Creating a virtual workplace may have its disadvantages, but with Time Clock Wizard, you and your employees can reap all the benefits of virtual teams, assuring you productive team members and a successful company.
5. Workers on a Virtual Team Take Fewer Days Off
The benefits of virtual teams go far beyond their increased productivity – virtually working from home ensures workers are more rested, so they take fewer days off. With flexible hours, workers can complete their tasks at a time that suits them best, leaving extra hours for leisure activities. They can also use this time to spend it with their families. This flexibility translates into better physical health and well-being. Employees do not have to stress over squeezing time out of busy schedules nor lie or make up stories to take a holiday. With the help of tools like Time Clock Wizard, companies can further encourage the benefits that come with a virtual team working.
6. Improve Employee Retention Rates
Virtual teams have been proven to improve employee retention rates and create a work environment in which each team member feels valued. By taking advantage of virtual team benefits such as collaborating with employees around the world, no matter their time zone, or having virtual meetings, companies are able to provide employees with flexible working opportunities that increase job satisfaction and reduce turnover.
Companies can also partner with tools such as Time Clock Wizard to further promote virtual team development. This cloud-based platform allows employers to manage virtual teams by tracking staff hours and identifying areas of performance based on the data gathered. From analysis, improvements can be made, which ultimately empowers you to create a virtual environment that nurtures your virtual employee. In return, members of your virtual teams can help businesses create positive impressions for future clients, as many employees can attest to the companies' stand on their well-being. This also reflects on your reputation as a manager and employer.
7. You Can Access a Global Talent Pool
Acquiring a global talent pool is essential for virtual teams, allowing you to access the best possible talent from around the world with varying skills and perspectives. By casting a wide net, you can be sure that your virtual team is filled with individuals who are the most qualified and experienced in their field of expertise. Not only can they bring technical know-how to the table, but they can also introduce fresh ideas to projects. Diversity among virtual employees is beneficial on many levels – culturally, there's much to learn when it comes to working with colleagues in different parts of the world. With a necessary understanding of different customs outside of one's own frame of reference, virtual teams can encourage personal growth throughout entire organizations while deepening their place on the global market.
Managing virtual employees in multiple time zones isn't always simple; that's where Time Clock Wizard comes into play. This practical tool works to help remote teams gauge time without interruption despite the distance, allowing for greater collaboration and communication amongst virtual workers regardless of their location. You can also be sure that your virtual employees do the work when they need to, as Time Clock Wizard has a photo verification at clock in, ensuring transparency and honesty even if you are not all at the same physical location.
Disadvantages of Virtual Teams
Virtual teams have a number of benefits due to remote employees not needing to travel to work, the reduction of office distractions, the reduction of unnecessary meetings, and having varied talents from team members residing in different time zones. However, some drawbacks may arise with working remotely due to the lack of physical separation between work and home.
To overcome any challenges that arise when managing virtual teams, it is essential for the business to utilize tools that are specifically designed for virtual teams, such as Time Clock Wizard. Time Clock Wizard is a performance monitoring and attendance tracking platform for remote employees. By having access to these specialized tools, businesses can monitor their virtual team's performance and keep up-to-date on their employees' whereabouts no matter where they are located, and without the need for office space. Consequently, virtual teams do present some difficulties, but these can be solved with the proper management and technology solutions like Time Clock Wizard. Virtual teams offer ample benefits that greatly outweigh their disadvantages when managed correctly.
Time Clock Wizard Creates Successful Virtual Teams
Time Clock Wizard is an excellent resource for virtual teams looking to maximize their potential and use virtual work capabilities to their advantage. With features such as time tracking, messaging, alerting team members of meetings, generating payroll and paychecks, and even offering HR support, Time Clock Wizard provides virtual teams with the tools they need to stay organized and reach success. Time Clock Wizard also offers paychecks on demand, setting them apart from other management apps. This feature shows that every team member's well-being is of utmost importance to the company, including their financial wellness. All of these features make Time Clock Wizard a perfect partner for virtual teams looking to maximize efficiency and reach their goals quickly.
Want your business to thrive?
Boost your team's productivity and efficiency ratings with time tracking!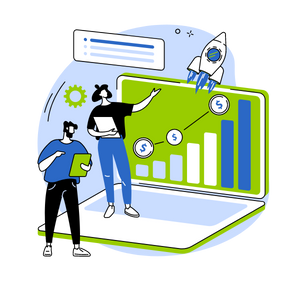 Time Tracking For Virtual Team Members
If you're running a business with a remote workforce, you know how important it is to have a system that ensures everyone is on the same page and working efficiently. Time tracking is a necessary element of effective virtual teams for employers and employees. For employers, effective time tracking with tools such as Time Clock Wizard allows efficient tracking of employee performance and management even if the employees are in different time zones. Virtual workers can also benefit from the tool, being able to easily share their progress or work hours no matter where they physically are – whether at home, on a 'workcation', or in an office. With this real-time data exchange and capability to keep up with each other's progress, even across great distances, effective virtual teams can be created anywhere in the world!
Building remote employee schedules
With businesses seeing the advantages of building remote teams, organizations need ways to manage the schedule of their remote employees and to distribute tasks to each one. Time Clock Wizard offers a perfect solution to this problem. By allowing remote employees and global virtual teams to access the time clock, their tasks, and schedules from any office space or remote locations in real time, there is an ease in doing remote work. They can do this even outside the business hours in their time zone. There is no need for video conferencing just to talk about tasks and schedules. This allows for easy remote team building and more efficiency when managing remote staff. With its easy-to-use interface and online capabilities, managers can also track employee working times and progress more accurately, which increases overall productivity. Therefore, using Time Clock Wizard for remote employee scheduling is paramount for any organization to stay ahead in today's competitive virtual workplace.
Let TCW be Your Partner for Your Virtual Team
In conclusion, virtual teams can provide effective teams over long distances by fostering diversity and creativity in the workplace. As a leader in developing high-performance virtual teams, Time Clock Wizard can be a great partner through its time clock for remote employees. With TCW's help, you can craft the most out of your virtual team by utilizing time tracking and other helpful communication tools to foster better engagement with teammates. If your organization looks to benefit from the many advantages of working virtually, let TCW be your partner for your virtual team endeavors. So, don't wait any longer, as now is the time to become part of the digital work revolution – start crafting successful virtual teams and let TCW help you along the way!