As businesses increasingly shift towards remote work, managing a remote team has become an essential skill for sales leadership. Remote selling requires a different approach than traditional in-person sales, and the remote team must navigate unique challenges such as communication, motivation, and productivity in a virtual environment. By understanding and implementing these strategies, sales leaders can effectively manage their remote sales team and drive organizational success:
1. Find the Perfect Fit for the Remote Sales Team Position
Successfully managing a remote sales team requires careful consideration when hiring a sales professional who will work outside the office. Sales can be challenging, so it's essential to find highly motivated individuals with strong drive and determination to close deals. Look for go-getters who exhibit these qualities and who are good listeners. This is vital in understanding customer needs and presenting your product in a way that resonates with them.
Charisma, especially during video calls, and excellent social skills are also essential traits to look for. Outside sales depend on face-to-face customer interaction, so you must ensure that your sales reps are comfortable with public speaking and video call and can establish a rapport with customers. During the interview, consider their body language and how they react to constructive criticism. Are your remote sales team open to learning and feedback?
Testing these skills during the interview can give you a sense of whether a candidate is right for your remote sales team. Have the interviewee pitch a product to you, provide feedback, and then have them pitch the product again. Look for their reaction to your feedback and willingness to learn and grow.
Once you've hired your remote sales reps, managing them effectively is essential. Video calls and cloud-based storage systems are some of the right tools to help remote sales managers ensure the team is on the same page. Establish clear expectations and key performance indicators. Provide regular feedback, coaching, and public team competition to motivate your remote sales team.
Regular remote sales meetings can help monitor the team's progress and help to identify any areas that need improvement. Remote salespeople must ensure that team communication is clear and open and customer relationships are well maintained. Ultimately, managing a remote sales team requires a combination of effective sales processes, new sales strategies, and the right tools to succeed during remote selling.
2. Teach and Train Your Remote Sales Teams with Precision
Remote sales management requires precision in training and communication. Once you have hired the right sales reps, it's crucial to provide your remote sales team with clear and concise training materials to ensure that they are prepared for the sales process. A structured and organized training timeline for your remote team can help them get up to speed quickly and spend more time selling. Assigning a mentor during the training process or sales activities can also be beneficial, allowing the virtual sales team to shadow experienced remote sales forces and learn from their tactics during remote selling and other sales process.
To truly put the training of your virtual sales team into practice, it's vital to get your remote sales rep out into the field as soon as possible. While your virtual sales team makes mistakes initially, they will learn from these experiences and be better prepared for success in the future. Throughout the process, regular check-ins with the virtual sales team can ensure that both you and your remote team are on the same page and that the training of your virtual sales team is progressing smoothly.
3. Gauge the Success of Remote Selling with Vital Indicators
Managing your sales organization can be challenging, but key performance indicators (KPIs) can help remote managers gauge success in remote selling with vital indicators. In addition to traditional KPIs, there are a few KPIs that your remote sales teams should pay close attention to manage their team's performance effectively.
Lead response time
The first KPI for your remote sales team is lead response time, which is the time it takes to follow up with a leader who has shown initial interest during virtual selling. The goal is to minimize lead response time so the lead can be contacted as quickly as possible by your virtual sales team. This is important because the sooner your virtual sales team contacts a lead, the more likely they will convert into customers.
Sales cycle length
Another KPI to consider in remote selling is the sales cycle length, which is the time frame from the first interaction of your remote sales team with the lead to when they become a paying customer. Shorter sales cycles are better because they indicate that leads are being converted into customers more efficiently by your remote sales team.
Closing ratio
The closing ratio is another important KPI to consider in remote selling. This is the number of sales by your remote team divided by the number of leads. A high closing ratio indicates a successful virtual sales team who can convert most of its leads into customers.
When managing remote sales teams, regular check-ins are essential to evaluate areas for improvement and discuss KPIs. Effective communication is crucial for your remote team, and managers should ensure team communication is clear.
Remote workers can also use video calls to hold remote sales meetings and foster a sense of team competition. This helps keep your virtual sales team motivated and working towards common goals.
Sales managers of the remote sales team should also ensure their team members have the right tools to be successful, such as tracking tools and video conferencing software. By managing a remote sales team, sales leaders can help their sales professionals succeed in a remote setting and build strong customer relationships.
4. Cultivate a Culture of Wellness and Growth.
Establishing a healthy culture is essential for managing remote workers during remote selling. As a leader, you have a crucial role in creating a positive work environment while working remotely. Core values should be established, and everyone in the remote sales force should know them. It is also essential to model these values, as your sales reps are working remotely.
Aside from establishing values among your sales reps, you can also ask your virtual sales team for feedback and ideas during your sales meeting on improving your sales call and even your work culture. Encourage a positive culture that motivates your virtual sales team to work harder while doing remote selling. A happier virtual sales team is more willing to put in the effort needed for the sales process.
Bonding and team activities among remote reps are also crucial for remote teams to take a break, have fun, and connect with each other. It is important to remember that remote reps are people too, and they need to feel valued and appreciated as team members.
Virtual sales and selling remotely present a unique challenge for sales organizations and the entire team. However, by building a positive work culture and effectively managing remote teams, sales leaders can ensure that their virtual and remote salespeople can perform at their best.
Implementing an incentive system is a great way to boost staff wellness and growth. Incentives can provide extra motivation for employees and make them more invested in seeing their work through.
Inspire your remote team through enticing incentives
Motivating a remote sales team can be challenging, but offering enticing incentives can help boost the performance of your remote sales team during sales calls. Managers can provide different incentives to excite their remote team to increase their sales during remote selling.
Paid vacation time
One of the incentives that remote sales managers can provide for their virtual sales teams is additional paid vacation time. This incentive doesn't require additional operating costs and can be just what your virtual sales team needs to boost their motivation and drive their numbers up during remote selling. Offering five additional vacation days won't significantly impact sales, but it can go a long way in motivating remote workers.
New equipment
Another incentive that can encourage the virtual sales team to increase their sales through remote selling is new equipment such as laptops or iPads. Offering this as a prize to the highest-selling rep of a remote sales team creates an environment of healthy competition and enthusiasm within the virtual sales team. It also gives the team members a fun work toy and a badge of honor for their hard work. The remote sales manager can also get on board with this incentive as the new tool can help the sales rep become more efficient, especially when cold calling prospects or remote selling in general.
Team events
Sales managers can offer team incentives like group dinners or fun team events. This encourages the entire virtual sales team to improve their numbers during remote selling while providing great team bonding opportunities. This boosts morale and motivation and can help foster better communication within the remote team.
Remote selling can be challenging, but offering the right incentives can lead to sales success. Sales managers must effectively manage their team members and set clear expectations for remote selling targets and customer expectations during sales meetings.
Team competition can also be a great motivator during remote work. Sales managers can set up competitions such as a sales pipeline, sales goals, or remote selling gimmicks, which can encourage healthy competition within the team. This enables multiple salespeople to work towards the same purpose and can lead to achieved sales targets and more efficient remote selling.
5. Utilize Powerful Sales Aids to Improve Sales Performance
According to Hubspot's 2019 Remote Work Report, 59% of remote workers have difficulty attending meetings, and 46% believe companies might improve their remote work transition by introducing more tools. The task can also be challenging for a colleague who uses an online chat system for a specific problem.
Virtual sales teams can utilize a variety of powerful sales aids and tools to improve their efficiency and productivity in remote selling, especially in a remote work environment. One such tool for sales management is a customer relationship management (CRM) system, which can help manage customer interactions and track working remotely. By organizing and improving communication, CRMs can help sales professionals and leaders manage their remote selling more effectively.
CRMs allow remote employees to keep track of customer history, enabling team members to pick up where a colleague left off, making reporting more effortless, and optimizing the sales process. Many CRM programs offer free trials, making it easier for teams to find the right fit for their remote selling. Other tools like Slack can help with direct communication, allowing remote employees to communicate directly or in groups, share files, and integrate with other software platforms from a phone. Badger Maps is another tool that can help sales reps become more efficient by optimizing their routes and organizing their customers visually and, therefore, a more successful remote selling.
Managing a remote sales team requires the right tools and strategies during sales activities. Many sales managers set clear expectations for their remote team members and remote work to optimize the selling process among sales reps. Sales should have the tools to help them work remotely and manage their sales pipeline. The virtual sales rep can use video conferencing and team meetings to monitor and track the team member and identify areas for improvement during remote working. By utilizing powerful sales aids and tools in a remote setting, remote sales teams can successfully manage to reach their prospects during video calls and achieve success in their virtual selling.
Speaking of tools, a time tracking and task management tool would best aid the remote team management aspect of the company. Here are some examples:
Slack
Slack is a cloud-based instant messaging platform that enables teams to communicate in real-time. It offers features such as channels, direct messaging, and file sharing, making it an ideal tool for virtual sales teams. Slack's advantages include real-time communication, file sharing, and the ability to integrate with other tools. With Slack, virtual sales teams can easily collaborate on sales strategies, share important files, and communicate with each other in real-time.
HubSpot
HubSpot is a customer relationship management (CRM) platform designed to help businesses manage their sales, marketing, and customer service activities. It offers features such as lead generation, sales automation, and analytics, making it an ideal tool for virtual sales teams. HubSpot's advantages include improved lead management, increased sales productivity, and the ability to track customer interactions. With HubSpot, virtual sales teams can manage their leads more effectively, automate repetitive tasks, and analyze their sales performance.
Zoom
Zoom is a video conferencing platform that allows teams to conduct virtual meetings and webinars. It offers features such as screen sharing, virtual backgrounds, and recording capabilities, making it an ideal tool for virtual sales teams. Zoom's advantages include improved communication, increased engagement, and the ability to connect with customers and prospects face-to-face. With Zoom, virtual sales teams can conduct virtual sales meetings, demos, and webinars with ease.
Want your business to thrive?
Boost your team's productivity and efficiency ratings with time tracking!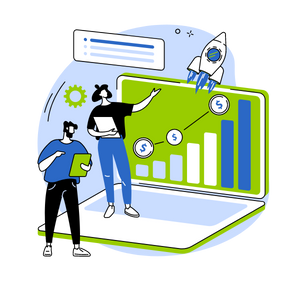 A powerful tool to empower remote sales managers
Time Clock Wizard is a powerful tool for small to medium-sized businesses looking to manage their virtual sales team time and attendance and improve sales performance. In addition to standard features like time tracking and payroll management, TCW also offers a range of advanced features designed to help managers monitor and manage remote or work-from-home remote sales teams.
One of the standout features of TCW is its remote monitoring capabilities. By taking automatic screenshots of employee workstations, managers can keep track of work and sales meeting as it happens, even if the virtual sales team are working from home. This is particularly useful for businesses with remote sales teams, as it allows managers to monitor performance and meet sales goals.
Another feature that can be particularly helpful for virtual sales teams is the GPS employee locator. This feature allows managers to track the location of remote employees via GPS, which is particularly useful for businesses that require employees to travel to and from customer locations or for delivery businesses. By tracking employee location, managers can ensure that sales representatives visit customers as scheduled and that deliveries are made on time.
Finally, the real-time activity stream gives managers a snapshot of employee activity and status. This can be particularly useful for incentivizing your virtual sales team to perform at their best. For example, by using the real-time activity stream to monitor performance, managers can offer additional vacation days or other incentives to sales representatives who meet or exceed their sales goals. By providing tangible rewards for strong performance, businesses can encourage their virtual sales teams to work harder and perform at their best.
Final Thoughts
Managing a successful sales team requires an innovative approach and compliance with industry best practices. A company's effectiveness can be quickly gauged by evaluating the motivation of its sales professional, the quality of its remote training program, the use of vital indicators to measure success, and an internal culture that embraces growth and wellness. Moreover, leveraging powerful sales aids and tools for remote team management is essential for teams to reach their greatest potential. With careful consideration taken in each of these areas, any organization has the potential to set itself up for long-term success.