Are you struggling to manage your professional teams efficiently? Have you considered using a team management tool but don't know which one is right for you? It may be overwhelming to make a decision because there are so many different options available. In this respect, there are two tools that are worth looking at Time Clock Wizard (TCW) and Staff Wizard. This article eliminates that confusion by providing an in-depth breakdown of the features and functionality of both tools. By understanding their differences, you will be able to decide which software best suits your needs for managing professional teams, whether they are remote teams or in-house teams. Join us as we explore why TCW stands out from other products in its category and how it can improve workflow productivity without sacrificing quality.
What are the benefits of managing a team effectively?
In short words, effective management of a team leads you to success. The management style used and management skills of the team leader have an enormous impact on how well a team performs and how efficient they can become.
When teams are managed effectively, employees are happy with their careers, and they accomplish so much more.
Additionally, with an effective manager, team goals become more achievable because there is an efficient management of resources, there's helpful feedback throughout the process, and progress is tracked effectively. All these elements provide valuable benefits to not only the team's performance but also its morale – making it easier for teams to reach their goals faster than before.
What is Team Management Software and Why Do We Need It?
Team management software offers leaders the tools to effectively manage their teams. It enables management to monitor team progress and identify points of improvement to better the organization. Not only does it helps teams reach peak performance levels, but it also allows management to hone have more time to hone employees' skills and ensure they stay on top.
With a team management software at hand, you can set tasks, assign schedules, and monitor the work of your team wherever they are. The team management softwares that we are going to explore in this article are Time Clock Wizard and Staff Wizard. Both have good records when it comes to giving managers the capacity to set clear goals and develop management strategies that best suit their team's strengths.
While there are many management tools available, team management software like TCW is essential in helping managers and teams stay organized, efficient, and productive at all times.
Comparing TCW versus Staff Wizard
When it comes to effectively managing a professional team, Time Clock Wizard (TCW) and Staff Wizard are two of the best tools out there. While both offer great functions when it comes to payroll solutions, one might be better than the other when it comes to adding to leaders' management skills.
Time Clock Wizard Overview and Its Features
Time Clock Wizard offers a comprehensive suite of features designed to help managers delegate tasks quickly and effectively while staying focused on achieving strategic goals. This automated system truly empowers a manager, allowing them to make their own decisions without making the tedious manual and repetitive task of scheduling and tasking. With TCW's features, it's no wonder why many businesses are choosing TCW over other team management tools for their training and onboarding needs.
Its integrated HR system gives the head coach complete control over all aspects of their teams' activities, like shift scheduling and employee reimbursement requests. It also simplifies making salary and PTO reports to help the company pay their employees the correct amount. It is highly customizable and easy to use.
The real power of TCW, though, is its ability to intuitively craft custom plans while ensuring compliance with local or federal laws—so that the team can have the flexibility they need without damaging any rulebooks. Ultimately this makes TCW the ideal tool for anyone looking to effectively manage a professional team with ease.
Want your business to thrive?
Boost your team's productivity and efficiency ratings with time tracking!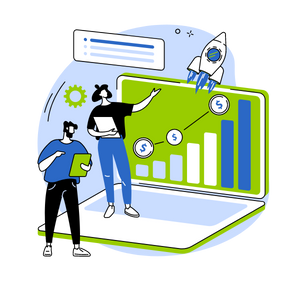 Staff Wizard Overview and Its Features
Staff Wizard is an effective team management tool that offers training sessions and has a variety of features that makes it appealing to managers. It allows them to effectively manage and configure their teams, as well as onboard their new employees. Staff Wizard also has a variety of features to offer, but there were reviews of how its app fails to do its simple tasks, like allowing employees to clock in. This can be very frustrating for the employees and for the managers that need to adjust a couple of numbers in the payroll.
Pros and Cons of Using Team Management Tools
Team management tools like Time Clock Wizard can help effective managers take their company to the next level as they are equipped with the tools to give their best approach. With the right people and the right tools, managers can craft vital activities such as creativity camps or online classes that give their employees' skills and careers a boost. TCW's scheduling and management features enable managers and employees to get better results from each training session.
The tools provide options for employers to have greater visibility into their teams' work, ensuring that everyone is abiding by the standards expected by the organization. Getting the right tool for your business also builds mutual respect between managers and team members. With TCW, your employees know that their hard work is visible and that it's recorded and rewarded accordingly.
All in all, these tools make team training and practices much more worthwhile and efficient. With advanced reporting metrics and automation functions provided by tools like TCW, it makes sense to make use of such a valuable resource when training members of your organization if you want to ensure that your company is as cost-effective as possible.
There's really not much to discuss when it comes to the cons of using team management systems. As our technology progresses, we have to harness it and put effort into knowing how we can make the best out of it.
Tips on Managing Professional Teams
Managing professional teams can often prove challenging, but it is critical for team and business success. One inevitable team management task is tracking team member hours and attendance. Among the options available, Time Clock Wizard offers comprehensive solutions for employers. These team management tools provide insightful reporting to help you stay up to speed with team performance, and it gives you more time to craft processes that can improve team interaction on a personal level. With TCW, you have the last word when it comes to decision-making as you, being the admin, decides whether or not you are going to approve requests on change of schedules, leaves, paid time-off, or overtime pay. In addition, TCW boasts two-way communication where team leaders are able to communicate work tasks and team members are able to clock in or out online or using the mobile app, making life easier for both employer and employee.
Now, aside from using an online management tool, here are some other tips that can help you manage your professional teams.
1. Team leaders must employ effective communication
Keeping team members informed in all the crucial aspects of the job is perhaps the most important thing team leaders must do in order to ensure success. Effective team communication is an asset not just for team leaders but also for employees.
2. A team leader knows how to delegate
As a team leader, it's important to respect each individual player for their unique strengths and weaknesses. Without respect for the team players, you cannot successfully lead and delegate tasks to them.
3. Provide motivation
Motivation is key for professional teams to stay focus and keep moving toward their goals. As a manager, it is your job to keep them motivated. So, it is really useful if you have Time Clock Wizard as your partner doing the repetitive tasks while you explore ways on how to create better professional relationships with your team.
Wrap Up
Overall, when it comes to managing professional teams, having tools such as Time Clock Wizard and Staff Wizard can make your job easier. Through the comparison of these two leading team management tools, one can see that TCW is a better overall option due to its cost-savings, employee tracking capacities, and simpler user interface. Ultimately, the success of a team requires thoughtful leadership, effective communication, and each team member's commitment. As suggested throughout this article's tips for successful team management – find ways to motivate them and ensure they enjoy their work to ensure an efficient environment. What is your management style? Make it work with Time Clock Wizard!