Are you struggling to manage a remote team in today's business landscape? You're not alone. As more companies shift to hybrid teams, it can be challenging to effectively manage remote employees while maintaining productivity and work-life balance. But fear not! With the right remote team management strategies and innovative project management tools, you can encourage team members, set clear expectations, and keep everyone on the same page.
In this guide, we'll share effective tips and techniques for managing remote teams, including managing multiple remote teams, project management software, and managing remotely across different time zones. Whether you're a remote manager, business owner, or remote team member, this guide will help you effectively manage remote workers, encourage team members, and work remotely without sacrificing your personal life.
Embracing the Remote Revolution: How Remote Work Changed My Life
Today's modern workforce rapidly evolves, with remote working quickly becoming the norm. Whether it's freelancers leveraging their newfound freedom to roam and explore new cultures or budding entrepreneurs finally taking the plunge into self-employment, telecommuting offers several advantages over traditional work settings.
But as much potential for innovation comes with a unique set of challenges – namely, managing a distributed remote team effectively.
In this comprehensive piece, we'll provide you with all the latest best practices in order to ensure smooth sailing while maintaining an environment conducive to collaboration and productivity. You can wave goodbye to long-distance headaches once and for all and embrace secure time-tracking technology designed with remote teams in mind!
Read on to discover how Time Clock Wizard uses groundbreaking technology combined with tried-and-true methods so you can have success when leading your own distributed team day after day.
Want your business to thrive?
Boost your team's productivity and efficiency ratings with time tracking!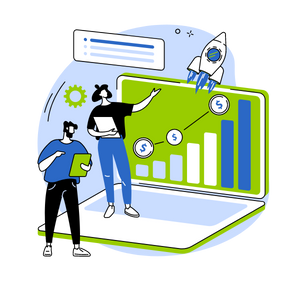 Part 1 – Why Building a Remote Team is the Future of Work
In recent years, the concept of remote working has become increasingly popular among businesses. Organizations quickly realize the advantages of building a remote team, and they're now looking to take advantage of the cost savings and increased productivity that come with it.
There's no denying that the world of work is drastically shifting. More and more businesses are moving to a remote model – including TCW! In fact, we believe that building a remote team is unequivocally the way of the future. Not only can a remote setup make it easier to connect with team members around the globe and take advantage of their different skills, but it also has myriad cost-cutting benefits: from reduced overhead costs to improved productivity and retention rates.
Remote teams have shown time and again to be invaluable assets for companies looking to break into new markets. That's why at TCW, we have devoted ourselves to giving our clients the resources they need in order to successfully manage a remote team!
Finding Your "Why": A Guide to Starting Your Remote Business
Starting a remote business is incredibly exciting, but it's no small feat. What sets successful remote businesses apart from the rest are those who started with their "why" – a strong purpose that drives every decision and unites team members from wherever they may be.
It's essential to reflect on this early on and ask yourself questions such as:
"What problem am I trying to solve in my remote team?"
"What value can I provide remote workers?"
"What goal will contribute to the success of our remote team?"
A sound understanding of your original motivation for starting your remote business will help guide many decisions later on and ensure that you create something people will actually care about.
Without a comprehensive understanding of why a remote business is entered into, it may not last more than a few years.
After all, as Stephen Covey so wisely said: "Start with the end in mind."
Building Your Dream Team: The Benefits of a Remote Workforce
The most obvious benefit of having a remote team is that it saves on overhead costs associated with renting office space. By having your employees work remotely, you can save money on electricity, rent, and other expenses associated with running an office. Additionally, you won't need to pay for items like furniture or technology as those can be provided by the employees themselves.
As well as saving money through reduced overhead costs, there are also numerous benefits when it comes to productivity. Remote teams have the potential to be more productive than traditional teams due to their flexibility and lack of distractions that come from being in an office environment. This enables them to access tasks more quickly and efficiently, which allows them to complete work faster and more accurately.
Additionally, they're able to work whenever they want (within reason), which means they can avoid commuting times or personal appointments during their working hours—allowing them to finish tasks sooner. And because there are fewer distractions in their home workspace, remote teams tend to be much more focused on getting their tasks done faster and more accurately than traditional teams, who may have frequent interruptions throughout the day.
Furthermore, having a remote team provides greater job satisfaction for employees as it gives them autonomy over how they manage their time efficiently while still achieving excellent results for the company.
Allowing employees greater control over where and when they work best helps boost morale and leads to better job satisfaction overall—which leads to improved productivity in the long run. This autonomy also increases the trust between employers and employees, thereby making communication easier between both parties, which further enhances efficiency without sacrificing any quality of output from either end.
Overall, building a remote team is likely going to be part of the future landscape of business as companies continue embracing technology advances in order to achieve greater efficiency levels while also cutting costs across all aspects of the operation. With TCW's Guide in Managing Remote Teams offering help with systems and processes for managing online teams effectively while improving productivity levels at the same time—it's clear that this is an opportunity not worth missing out on!
The Power of Purpose: How Your "Why" Guides Remote Team Decisions
Building remote teams can often be challenging because it is difficult to develop a bond with remote workers who are not all physically in the same space.
After understanding why remote teams are important, the next step is to make sure that each employee not only understands but fully supports your "why." This will help create a team with like-minded goals and a common purpose.
By hiring remote workers with an understanding of this "why," virtual businesses will have more chances for success in terms of collaboration and faster task completion. Your "why" should be part of each decision you make and also give your remote team confidence to make decisions similar to what you would make if you were in the trenches of your business.
The TCW Guide to Managing a Remote Team explains the importance of having a clear "why" and the role it plays in building successful remote teams.
Mastering the Art of Remote Team Management: Fundamentals and Best Practices
When it comes to remote team management, here are some fundamentals that everyone should follow for success.
First and foremost, it's important to maintain a positive attitude and treat remote workers with respect. Next, setting a good example for others and taking a critical look at your own behavior is key – it's not about changing others since each person is responsible for their own behavior and choices.
Lastly, remote teams should foster an environment of accountability by ensuring everyone is held to the same expectations of performance. If you can follow these strategies, remote team management can be easier than you think!
Overcoming the Challenges of Managing a Distributed Workforce
As the remote workforce continues to grow, so do the challenges and opportunities associated with managing remote employees. While remote works offer many benefits, such as increased efficiency and agility, it also poses unique challenges that require effort and investment to overcome.
One major challenge of managing remote employees is the decreased touchpoints between remote staff and managers, which can lead to fewer avenues for providing feedback and less control over team performance at any given time. However, with the right approach, these challenges can be overcome.
To effectively manage remote teams, it's important to commit to regular remote check-ins, utilize project management tools like Microsoft Teams, and establish clear expectations and standard operating procedures. Encouraging team members to provide feedback proactively and providing emotional support can also help keep remote team members engaged and motivated.
In addition, virtual meetings and regular conference calls help keep everyone on the same page, regardless of time zones or physical location. And by creating a hybrid remote/on-site workspace, remote managers can help ensure that all team members feel included and valued.
Successful remote team management requires a creative and confident management style, one that embraces the unique opportunities and challenges of the remote environment. By leveraging communication tools and establishing ground rules, managing remote teams can be an effective and rewarding experience for both the remote manager and the entire team.
So, as companies continue to embrace the future of work – remote teams – it's important to focus on managing teams effectively, promoting work-life balance and well-being, and providing regular group meetings and random video calls to ensure the success of multiple remote teams in a virtual environment.
Problem 1: Bridging the Communication Gap in Remote Teams
Communication is a critical factor for remote teams to succeed—without the personal, face-to-face interactions that are present in office settings, remote teams must rely on technology and remote collaboration tools like Slack and Basecamp to stay connected.
Working in remote teams can be both rewarding and challenging, but remote project managers need to ensure that their remote teams have strong communication established. Without bridging the communication gap, remote workers may find themselves lost and disengaged. Identifying remote workers with the right skills that fit within your remote company culture is key.
Tools like Slack and Basecamp are essential in staying connected and creating a productive hybrid environment for remote teams but don't forget to be aware of common team challenges that could affect success. After all, communication is what will make remote teams successful!
At TCW, we strive to provide remote managers with the necessary skill sets to help bridge the communication gap.
We understand that remote teams often face common challenges, such as a lack of clarity in tasks or project objectives, issues with remote workers' engagement and commitment, overlooking things due to email overloads, and much more.
That's why we focus on providing our clients with an optimal hybrid solution that includes key communication tools so they can make sure their remote team delivers quality results.
Problem 2: Time Tracking Woes and How to Solve Them
Managing remote teams can be a difficult task – from keeping track of remote workers' work hours to providing accurate payouts. To navigate these challenges, using a tool like TCW could be invaluable.
The platform makes remote management simpler by enabling managers to take screenshots, monitor activity levels, and quickly push out payments – reducing time-consuming follow-ups and other administrative tasks.
In essence, this technology allows for remote teams or even hybrid teams to stay organized and efficient – enabling managers to focus on the bigger picture when it comes to running the business. All things considered, using technology-driven solutions such as TCW make running remote teams much less of a hassle and provides accurate tracking data.
Problem 3: Navigating Individual Project Discussions in a Virtual Environment
While remote work and remote teams present unique challenges to productivity, navigation of individual project discussions in the virtual environment can be particularly tricky. Fortunately, the trend toward technology solutions has made remote teams more productive than ever.
Video conferencing platforms such as Zoom, Meet, and BlueJeans give remote workers an easy way to communicate without having to ferret out a phone number or find enough time for multiple people's schedules to align for an in-person meeting. Valuable features such as screen sharing, chat capabilities, and whiteboards with annotation tools make remote collaboration seamless.
With the right tools and technology, remote teams can function almost as well as traditional, in-person teams. Whether you are running a remote team or just trying to coordinate group projects with hybrid remote workforce arrangements, embracing digital solutions can help take your conversations from difficult remote management situations like navigating individual project discussions into new realms of productivity.
The Push Factor: How to Motivate Your Remote Team to Peak Performance
Crafting a remote team that is motivated and living up to peak performance can be difficult, but it's definitely not impossible. The main factor that managers need to consider is the importance of a "no excuses" mindset when managing remote workers or remote teams.
Rather than shying away from difficult decisions like dealing with dismissals over email, the manager must take charge, have thick skin, and see through their goals.
To effectively manage remote employees, it takes effort from both the virtual leaders and distributed employees. Encouraging team members to reach out to those who have gone through similar experiences can be helpful. Setting clear expectations and ground rules for virtual meetings is also important for managing remote teams.
Using communication tools like Microsoft Teams or video conferencing tools can help bring the entire team on the same page, despite different time zones. Managing remotely also requires providing emotional support to individual team members to maintain their well-being. Remember, success in remote team management comes from a purpose-driven approach, standard operating procedures, and regular conference calls to keep everyone aligned.
In today's hybrid workspaces, there are plenty of models and solutions available which aim to reduce stress and manageability for remote teams; however, it is up to the manager of the remote team to implement them in order for them to work as intended. To achieve peak performance with remote workers or remote teams that you manage, remember: no excuses – come with determination and take action.
No Excuses: Holding Your Remote Team Accountable for Results
When it comes to remote teams and remote workers, accountability should be a top priority. "No Excuses" means setting expectations for the finished product and making sure there are clear deadlines in place.
As a remote manager or organization owner, it's essential to leave no room for excuses and make sure remote teams know exactly what's expected of them. This may require upfront conversations regarding timelines and progress reports, but having those conversations will pay dividends when it comes to results later.
Don't be shy about calling team members out if they don't meet the expectations set. Holding hybrid teams to the same high standards pays off in the long run.
In conclusion
As a remote leader, managing a remote team can be a challenging yet rewarding experience. Working remotely offers the flexibility to shape your own life and work environment, but to do it successfully, it's essential to understand your "why."
With multiple remote teams, it's crucial to keep in mind all the processes, solutions, tactics, and best practices when vetting team members, communicating with them, and preparing for unforeseen complications. Finding tools like Time Clock Wizard to bridge communication, tackle time-tracking woes, or drive successful conversations are keystones of successful remote team management.
In conclusion, managing a remote or hybrid team requires a creative and confident management style. Embrace the virtual environment and let the power of technology help you manage your team effectively. With the right tools, random video calls, and weekly team meetings, you can ensure that your remote team is always on track. So, whether you're a remote manager or an employee working remotely, always prioritize work-life balance and make sure that your personal life is not compromised.