You may think that, as a solopreneur, your business has already reached its peak, but building a team can help expand your business' potential. While transitioning from working alone to managing a team can be scary, it is necessary for business growth.
Transitioning into something that might be fresh ground for you might make you hesitate to continue, especially if your business and capital are on the line. The transition from solopreneur to entrepreneur managing a team can be quite worrisome. It takes a lot of determination and a specific skill set to transition successfully.
Now you're urged to top your business up a notch. In this article, we listed a few helpful tips on how to make your shift from solopreneur to managing a team.
Benefits of being a solopreneur to entrepreneur
Many business journeys start with a solopreneur with big dreams in life. This business strategy can also last for various reasons. Here are some:
You have complete autonomy over your work.
You are your own boss.
You have a flexible schedule to address your daily tasks.
There are no team meetings or arguments, as you are your own team member.
You have the freedom to do whatever you want regarding your business.
You have the flexibility to work how and when you desire.
You can stay working solo if you think your business is running smoothly. However, a smart business strategist would recommend that expanding your business and hiring a team can lead to bigger success. With a team, you can do a lot more, including:
Having a pool of different skillset that can help you with brainstorming and planning.
Having specialized tasks be delegated to each member with a specific skill.
Dividing workload so as not to be burnt out with the tasks.
Reduced amount of work since you can allot tasks between all the members of the team.
Surely, shifting to project management after being a solopreneur for so long is like venturing out of your comfort zone, but think of it as part of your business journey, and it can assure you of bigger entrepreneurial success.
It's a good thing that team management is now easier with software such as Time Clock Wizard, an online time clock where you can easily manage tasks, send messages to your team members, and send reminders on tasks and meetings. Going from solopreneur to entrepreneur, entrepreneurs tend to be hands-on with their systems. Time Clock Wizard can monitor your company and your employees for you even if you are away. They can clock in on a single device in a single location every time they need to work.
Know Your Purpose
Knowing your purpose and the purpose of your business sets the standard for your company's members and future members. It also defines your brand. Your defined purpose is an essential part of a business mindset. Take a broader view of what your business will be once it grows. Your purpose is what sets the tone for how your team will work and how your customers will perceive your service or product.
As an entrepreneur, your goals and vision for the company should be set clearly and understood by everyone working with you. It should be clear what your business is for and to whom it is for. This also provides a pillar for the standard operating procedures you will set for your growing team.
A good entrepreneur has a business mindset that can encourage the team to do meaningful and efficient work. You will be the driving force of your team toward your goal. When you are passionate about making your business grow, nothing is stopping you. When challenging times make work difficult, your purpose and mindset keep the team unbroken, even through ups and downs.
Know Your Potential Employees
You can't simply hire anyone just because you are forming a team. You have to be fully aware of what they bring to the table, especially if you are going head-on with bigger tasks that your growing company needs. Your team requires cohesiveness and efficiency, just like any other business. We listed here a few things for you to consider in building the right team:
You have to consider that people have both strengths and weaknesses. Certainly, not all people have the skill sets that you want for an employee. You must weigh their strengths and weaknesses to find the right ones suited for the job. Interview processes and onboarding is part of the crucial set of steps that you should take when hiring someone for your team.
Look for people who are passionate and enthusiastic about what they do. You must form a team that loves their work because they are surely the ones who would stay longer in your business. They are also likely to be proficient in their work which ensures business success. If they have the same passion as you, chances are your team can easily pass through difficulties at work. You can hire freelancers at first, and if your business continues to expand, they can be a permanent part of your team. After all, many businesses and workers are already shifting to remote work. Should you decide to hire freelancers working remotely, Time Clock Wizard can monitor the time-in and time-out of your remote employees. Time Clock Wizard also has a self-management and scheduling feature that you can use to manage your employees even if you are away.
When hiring someone, consider how they fit in your company's culture. The people you need to have on your team should have the skills that your team needs and matches the culture of your business perfectly. Every company has its own culture. Other companies have a culture of working late at night. Some have a routine of eating outside together after work. Whatever the culture of your company is, you have to consider how the team members will fit in.
Build a Team That You Can Trust
The key to a successful business is trust between you and your team. Without it, your business will quickly fall apart because your team won't form any coordination. It is essential to be compatible with your team. After all, your employees are the life system of your growing business.
So how do you build trust within your team? Here are some tips:
Develop a good foundation of trust in your team, ensuring they everyone has a harmonious professional relationship with one another.
Take time to connect with them on a personal level. Dedicate some time to talk with your team. Your conversations with them should also be about things other than work. Creating a bond with your employees assures them that you value them and care for their welfare.
Give the freedom of your employees to work on their terms.
You have to trust your team to do the tasks that you have assigned to them and ensure transparency.
With these things in mind, a trusting relationship can bloom between you and your team. For those days when you are away or if you are handling a remote team, a trusted tool can help you monitor your team's progress and attendance. With Time Clock Wizard as a tool for your company, transparency is not an issue. You can delegate a task to anyone on the team, and you can check their progress even if you are away.
Want your business to thrive?
Boost your team's productivity and efficiency ratings with time tracking!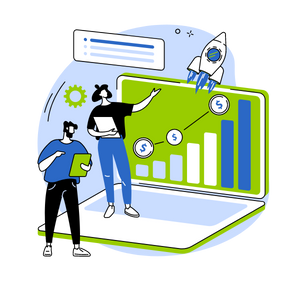 Delegate Tasks
Tasking is the primary job of a team leader. As a team manager, it's your job to oversee what is happening and give tasks to your employee to ensure that everything works seamlessly. Since tasking can be difficult, especially if you are used to working alone, here are some tips on how you can better delegate tasks for your team:
Avoid being a dictator. Chunk the tasks and delegate them fairly to your team members. This may take practice since you have been used to working alone and having control over everything in your work, but it makes work easier for everyone to understand and follow. As a solopreneur, managing a team may be a new experience for you, but you have to trust that your team members can do their job. Delegating your tasks can save time for you while also helping them to improve as professionals. Delegating is essential since it can prepare you for the future if you consider making a large team. This might take some time, especially for someone who decided to shift from solopreneur to entrepreneur.
Delegate responsibility. Even if you have the authority to delegate tasks to the team, never abuse it. Monitor how your team reacts to the tasks and how much time they spend working. While dumping work on your team feels like you will lessen the work you have on your plate, remember to get your hands on the project too. When delegating tasks, you can't simply hand over the task to them and expect a high-quality result. To delegate effectively, you have to choose the right person for the job. Each and one of your team has their own expertise, so choose wisely. Decide when to step back and when to micromanage, and trust your team that they will do their work.
Put into account the ideas and opinions of your team. Since they are the backbone of your business, know that their opinions matter too. Of course, you will have the final say on decision-making, but listening to your team can give you insights to decide better.
Get a tool that can help you with task delegation. With Time Clock Wizard, you can assign tasks and monitor your employees' work. This can give you data on how your team works. From this, you can create the adjustment your business may need to improve. You can start thinking of having training for your employees or even happy hours. With Time Clock Wizard, you can focus on areas that your business can benefit more from. Let Time Clock Wizard help ease the burden for you and your employees.
Self-awareness Leads to Success
Being self-aware is a trait that every leader needs to attain success. It is essential to master this if you want yourself and your team to deal with the weaknesses and threats to the business in the long run. This is also one of the most crucial skills a leader should have for a company to be successful.
One thing to know is that self-awareness makes you familiar with the strengths and weaknesses of yourself, your business, and your team. Just as we mentioned earlier, you will know which people can handle certain tasks, and you know what they are good at. If one of your employees is particularly good at a role but not as good at doing the other, you might want to make changes in giving out roles so that the business's weakness can be turned into a strength.
When you have mastered self-awareness, you will be able to utilize your team's strengths effectively and find out more opportunities for the business. With this trait, you and your team can build an identity for the business that is authentic. You'll also be able to decide on things important for the business faster.
Learn to Prioritize
For entrepreneurs, everything is important. However, with a team, you can get to have a person take care of the specifics for you. It only requires you to make crucial decisions, such as which task to prioritize. When you transition to a business owner with a team, there would be a lot more tasks to do than working as a solopreneur. This is a unique journey that you have to take.
So, which task is more important than the other? Look at the bigger picture. Instead of relying on the day-to-day deadline, it's important to know what plan will help your business in the long run. Knowing what and how to prioritize your tasks and responsibilities improves your leadership skills and the business's growth. Do note that a successful leader will focus on tasks essential for their business's long-term goals.
Remember, You are Capable
Shifting from a solopreneur to handling a team can be quite scary. Everything will change, including your routine and how you handle work. However, don't forget that deciding to shift to a company will surely make your business grow more than you might expect. When aiming for success in transitioning from a solopreneur to managing a team, remember key lessons such as self-awareness and prioritizing tasks. With the right tools, you can easily manage your team for maximum efficiency and long-term business growth while also ensuring that each team member has an equal voice in decision-making processes. Now it's time to make things happen with your new team! Utilize Time Clock Wizard or other helpful resources to focus on areas where your business will benefit more and ensure that these key lessons are implemented into your company culture. It's up to you now; take this journey and turn it into a success story of teamwork and growth!