TCW (Time Clock Wizard) is a powerful tool for managing remote team activity. With TCW, you can easily track the hours and tasks of your remote team members and ensure that they are working on their assigned tasks promptly and efficiently.
TCW can also be used to schedule team meetings, hit company deadlines, and promote and execute team-building exercises, even when in a virtual office. Learn how to manage remote team activity with TCW in this article.
Remote teams and Remote Team Management
Remote teams have been on the rise in recent years, with COVID-19 speeding up offices' transition from in-house offices to home offices. With this shift, it's important for managers to know the best practices to promote effective remote team activities.
A remote team manager must take an active approach to ensure that remote workers maintain high-quality standards of work while also feeling connected to everyone in the virtual office. This can be a challenge since virtual team members rarely interact with one another.
To get started, remote team managers must first understand remote teams and how they can effectively implement communication strategies, accessibility measures, and remote work policy formation. This includes setting up an online time clock and management system such as Time Clock Wizard.
Setting up accessible video conferencing rooms, hosting virtual meetings regularly, providing feedback, and doing fun team-building activities, are also essential components of a successful remote team management strategy. Ultimately, by taking these actions as a remote team manager, you can ensure that remote teams produce their best results with minimal disruption.
Remote teams vs. In-House Teams
If you find yourself thinking between the pros and cons of having a remote team and its difference from an in-house team, you are not alone. Managing a remote team can be drastically different from managing in-house teams.
While in-house teams have their advantages, like communication being easier and company culture being experienced, there are several outstanding advantages that set remote team building apart from traditional in-house teams.
Working remotely allows your company to have a larger pool of talent. Employees, on the other hand, can have a flexible schedule, more autonomy, and the ability to collaborate with colleagues of different cultures around the globe.
If you're thinking of the best way to ensure team collaboration, Time Clock Wizard is your best partner. This is the perfect time clock for any company moving about in the remote world.
Setting Up Your Remote Team in TCW
It's easy to set up remote teams in TCW. You can think of it as a two-way process. One process is for your employees, and the other one is for you as a manager.
For employees, it's simple.
To clock in, click the "Clock In" button found in the dashboard.
To go on a break, click the "Break In" button.
When you are done with your break, click the "Break Out" button.
At the end of your shift, click the "Clock Out" button. After that, it will display the total clocked time. You can also do this using the login screen with a username and password.
For employers and managers of a virtual team, there are a couple of features that help a great deal when managing team members. Some of the things that you can do using TCW are the following:
Schedule a remote team activity.
Using Time Clock Wizard, you can schedule any remote team activity that you can think of. It can be a virtual team-building activity, a virtual meeting, or a video conferencing schedule to talk about project plans. Whatever it is, you can simply add it using the TCW calendar. This schedule can also be synchronized with Google calendar.
Assign tasks to your team members.
When you are done creating a schedule, start assigning tasks to your team members. Remember to assign tasks according to each one's strengths. If you have a new team, you can start with a personality test to identify their strengths and weaknesses and assign tasks to whom it fits.
Analyze your data for future reference.
Since Time Clock Wizard provides you with data on how your virtual teams work, you analyze this to improve on future projects. You can even do an experiment like trying how team building activities can influence the performance of your team members.
Benefits of Remote Team Management with TCW
Remote teams can benefit immensely from TCW's processes, which include organizing remote workers into groups and assigning tasks to each team. Not only does TCW help remote teams collaborate more efficiently, but it can also significantly reduce the time it takes to complete a project.
TCW's remote team management software can work with other apps and digital tools. As such, it allows members to communicate effectively and share updates as the project progresses in real-time.
Getting the Most out of TCW for Your Remote Teams
Managing team activity for remote teams can be quite a challenge, but utilizing a team collaboration workspace like TCW can help simplify the process. With TCW, team members from anywhere in the world can work collaboratively, track project progress, brainstorm ideas, and complete team-building activities. Whether you are just starting your virtual team or if you already have an established team of remote employees, Time Clock Wizard can play an integral role in team efficiency and productivity. By understanding how to use all of TCW's features for maximum benefit for your team, you will get the most out of your virtual team operations.
Strategies for Improving Your Remote Teams Performance
To ensure that your virtual team is performing at its peak, it's important to have strategies in place from the very beginning.
Employ people that fit the company culture that you envision.
Onboard with a clear goal in mind.
Work towards mutual understanding.
Keep working on improving people's team spirit.
Encourage other team members to acquire new skills and develop existing ones.
Assign projects and set realistic deadlines.
Implement regular meetings and brainstorming sessions in order to nurture ideas.
Provide training and mentoring opportunities to new team members.
Assign tasks based on strengths and interests.
Create a sense of community among other team members by showing appreciation through virtual rewards or other incentives.
By using these strategies, you can keep your remote team motivated and efficient, allowing them to reach their objectives despite being scattered across the globe. Plus, with the help of the TCW management system, which provides several solutions for increasing the efficiency of remote teams, your company is sure to attain success.
Making the Most Out of Your Time With TCW
TCW provides a convenient and efficient way to manage virtual team activities. With its countless features that can help you with any remote team activity, like virtual team building, conference calls, and virtual coffee, users are able to maximize their time. Organizations can engage all of their remote team members through virtual events and projects.
For example, TCW can help with organizing virtual networking events, brainstorming sessions, team socializing activities, and more! With the help of this platform, virtual teams will be able to improve collaboration while allowing each individual to take full advantage of their time. Not only will you get the best results from communicating with your fellow team members on TCW, but you'll also have a great virtual experience too!
Remote Team Activities for Your Team
Running a remote team can be challenging, especially when it comes to keeping everyone connected and engaged. Understanding how to build relationships, foster collaboration and celebrate success without meeting in person can feel like a tall order. That's why running successful team activities for your team is one of your top priorities if you are a remote team manager. But where do you start? Here are some great ideas for remote team activities and how to conduct them, which can keep your crew unified and upbeat no matter where their work takes them.
1. Team building games
Remote team-building games can be a great way to help remote teams come together and build morale. Online team-building games like internet scavenger hunts or remote trivia nights can provide a fun, unique bonding experience for remote teams.
For the internet scavenger hunt, you can distribute worksheets with questions that they have to answer. They will look for the answers online, and whoever finishes first wins a prize. This game is all about technique and creativity, so your employees will definitely have a fun time with this one.
Research shows that fun and games can relieve stress and boost the energy of an individual, and can help improve mental health, even if it's done remotely. In relation, the productivity level at work increases. Definitely a win-win situation, right? While setting up for remote team-building games can be a tedious job, TCW (Time Clock Wizard) can make it easy for you.
2. Team meetings
Team meetings are one of the things that you should do as often as needed. You can do a conference call before, after, or even in between shifts. To make sure the meeting atmosphere is welcoming, you can kick off your virtual gathering with some short remote team-building activities. This will allow all members of the team to bond and connect on a personal level, even in the virtual world.
To break the ice before talking about business, ask your employees to share some jokes or funny stories. As long as they're within professional boundaries, adding humor to a remote meeting can make it enjoyable for everyone. Doing a mini-game is also a fun way to start your meeting. Finally, end your remote technical gatherings on a positive note by expressing mutual admiration for every team member's input.
3. Virtual happy hours
Virtual happy hours are a great remote team-building activity for colleagues to connect outside of work, even if you can't be in the same room. It provides an opportunity for everyone to relax and let their hair down. A virtual happy hour can consist of online team-building exercises such as quizzes or trivia, an exchange of personal stories, or just having a laugh together over some drinks and snacks. You can send them the drinks and snacks in advance to make sure everyone has something to sip and munch during the happy hours.
These remote activities foster relationships between teammates that go beyond the scope of day-to-day work tasks, helping them to learn about each other in a relaxed setting and become better colleagues or even friends.
4. Fitness challenge
Get your remote team moving with a virtual fitness challenge! Prompt your remote team members to sign up for an app that tracks their daily exercise. Set a timeline and assign points for each exercise goal achieved by the end of the challenge. Not only can you get your remote team geared up and active, but there's also a chance for them to win prizes if they reach their goals in time! Put some friendly competition into remote team-building activities and empower your remote team members to work together as one cohesive unit.
5. Feedback sessions
If you're looking to provide remote team-building activities that everyone will appreciate, why not consider setting up individual meetings with a sit-down tete-a-tete? This gives team members an avenue to have their say in a more relaxed manner.
One-on-one sessions when it comes to giving feedback can help everyone in more ways than you can imagine. It can help improve performance by discussing each employee's most improved task and areas of improvement. Personal relationships can also be tackled in this kind of session, as it is one of the major factors that can affect employees' performance.
Everyday life talk is an important part of any work environment, as it helps to create a sense of community and understanding among colleagues. It can provide valuable insight into the experiences and perspectives of co-workers while also developing positive relationships and fostering collaboration.
6. Video conference
Video conferencing doesn't have to be all about work. In fact, it can be one of your team-building activities. Gathering the entire virtual team together for a video conference, with no specified agenda or topics, can often yield wonderful results. Doing video conferences or video calls is one of the easiest and most reliable ways to connect everyone in a remote setting. Regular video conferencing builds better communication, therefore, creating a positive company culture.
7. Weekly meetings
Keeping everyone on the same page is key to a successful remote team, and weekly check-ins can be a great way to achieve this. Working remotely, as we all know, is really challenging, especially when it comes to building relationships.
Some individuals need physical presence to build trust and actively participate in the team's work. This is why weekly meetings are essential to compensate for the lack of physical presence. Setting aside the time for the whole team to meet allows the group to stay connected even remotely. Schedule them once a week and watch your entire team strengthen together with every session!
Using TCW for Managing Remote Team Activities
With TCW, you get to access several features that give you the upper hand on managing remote team activities. Here are some techniques to ensure that remote team activities are done with ease.
1. Build a schedule according to the availability of your remote employees.
When using Time Clock Wizard, you first have to identify the availability of your team members depending on their time zones. Since you are doing remote work, there's a big chance of having talents from all over the world. This means that there might be a schedule conflict that may arise.
This can easily be solved with the TCWs scheduling feature. Simply distribute tasks according to the availability of your distributed teams, confirm the schedule with them, and you're done.
What's good about TCW is that your employees can see their schedule, and they can easily ask for a change of schedule should there be a problem with the one you previously set. In short, Time Clock Wizard helps with processes and conflicts, enabling project managers to focus on more important tasks.
2. Schedule time for team leaders to mentor other remote employees.
A team leader is not just someone distributing tasks and making schedules. Effective team leaders are also mentors and teachers for other remote employees. To ensure success regarding your team's professional relationships, you don't simply rely on virtual team-building activities. You also have to create a mentorship program for your team.
Therefore, as a team leader, you have to create or schedule time for company leaders to check in on your employees. You have to allot time for coaching and giving feedback.
3. Utilize the report generation feature of TCW.
Another thing that you have to maximize when using TCW is its remote generation capabilities. This feature saves you a lot of time to work on other matters.
TCW can generate time tracking reports which you can analyze to identify your employees' peak hours and weak points. TCW can also generate payroll reports, including PTO reports. Instead of paying a whole HR department to do this, you can simply subscribe to Time Clock Wizard starting at $39.95 per month. The good thing is that you can try it out for free for the first 14 days. It's hard to say no to a good deal like that.
With TCW, you can focus on managing remote teams, like scheduling virtual team-building activities, psychological safety seminars, video calls, weekly meetings and check-ins, and more.
4. Send out short positive feedback as much as possible.
Sending positive feedback, encouraging messages, and short reminders is an easy task if you have Time Clock Wizard on your team. Through TCW, you can customize a message for everyone on the team. They can see this message on their login screen or in the dashboard, so it will be difficult to miss.
There are a lot of short positive messages that you can send to your remote workers. You can say: "Thank you for your hard work." or "Have a productive day today." You can also set reminders if you have scheduled any remote team activity. With Time Clock Wizard as your management tool, you can develop meaningful relationships with your team.
Want your business to thrive?
Boost your team's productivity and efficiency ratings with time tracking!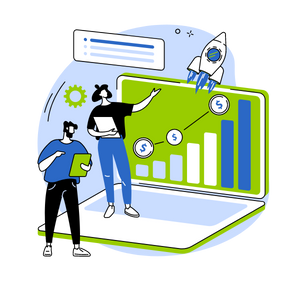 Remote Team Building Activities: Why are they Important?
Working remotely has its drawbacks when it comes to developing company culture. The good thing is that our latest tech gives us a plethora of tools that we can use to communicate and build personal relationships while in a virtual team.
One process that organizations lean on to develop connections while working remotely is having remote team-building activities. It's hard to emphasize how effective virtual team-building activities are, especially for work set-ups where physical bonding is nearly impossible.
Remote workers face the risk of feeling disconnected from their colleagues, making it difficult to create an effective team. It is especially difficult when the remote working teams are new, meaning each team member has not worked with each other before.
What makes virtual team building important is how it helps break the ice between members and build trust among them. It also reinforces positive behavior, promotes better communication throughout, encourages collaboration, and strengthens the team's problem-solving skills.
Virtual team-building activities can help create and maintain strong relationships among remote team members. Exercises like virtual scavenger hunts or online trivia games can help build a better connection between remote workers and provide them with opportunities to engage on a different level.
With TCW, you can easily introduce interactive activities and fun games that will help your remote teams bond better and form stronger connections.
The Impact of Remote Team Building Activities
Studies say that team buildings are important for good remote team collaboration. It impacts the remote company and culture by building trust and camaraderie between remote teams. It also helps them understand how to collaborate better as a virtual team. Everybody likes to have a light moment at work where you can laugh and have fun with your peers.
Virtual team-building activities help ease some of the complications that come with managing remote teams. The right activities can increase remote employee engagement and build stronger relationships between team members, ultimately creating positive feedback.
Virtual Team Building Activities: A Guide for Team Leaders
Virtual Cook-Off
A virtual cook-off is one smart thing that you can try with your team. It is a good idea to have fun and do something else with co-workers other than work. You can do virtual baking, a chili cook-off, or a barbeque cook-off. You can also share recipes after as if you are neighbors sharing household tips. This would be very exciting if your team is multi-cultural as people get to share flavor palettes from different countries.
Coffee With the Manager
If you want to give feedback to your employees while knowing them more on a personal level, try "Coffee with the Manager". Send the coffee and snack in advance, do a short video call, and talk about work performance and how it affects their personal life. You can start from there and see where your conversation takes you.
Paint Night
Digital paint night is an absolute must-try! Your employees don't need to have painting skills to enjoy making art. You can send art materials in advance or decide on making a digital painting. Settle with a theme and sit down while everyone makes art. Creating something beautiful together makes the conversation more interesting.
How to Conduct Virtual Team Building Activities with TCW
Virtual team-building activities are a great way for your remote workers to build trust with one another. Now, if you are thinking of conducting remote team-building activities with the use of TCW for your team, here are some tips on how to get the ball rolling.
1. Gather a pool of virtual team-building activities.
With a virtual team consisting of different people with different personalities and hobbies, the first thing that you can do is to gather a pool of virtual team-building activities. You can brainstorm some remote team-building exercise ideas and choose one thing that you can do. Remote team-building activities, like virtual coffee, virtual happy hours, or fitness challenge, can do a lot for distributed teams.
2. Track the time you spend on team-building games.
Remote team-building activities are a great way to encourage your team members to stay connected and directly engaged, even from a distance. However, since you are using precious company time, you have to track the time you spend on team-building exercises.
With Time Clock Wizard, you can easily see if you can fit the fun games between your employees' work times or which day will work best for everyone.
3. Send reminders to all your team members.
If you are handling a virtual team, you know how everyone has that moment when they miss a schedule (or two). With Time Clock Wizard, you can do away with all that. You can easily set reminders for your team members with only a few clicks from your device. This message will instantly appear on the dashboard and login screen. Plus, with Time Clock Wizard, you can easily predict if everyone will be present on your scheduled team-building exercises once you see their livestream progress.
Wrap up
The remote environment created a need for a different way of team management. However, with Time Clock Wizard (TCW), you have a solution that can help with any remote team activity, whether it be a remote team building activity, a marketing team conference call, or virtual coffee. With TCW, remote team managers can easily assign tasks and track the time spent on each task. They can also send reminders if needed, review how well everyone performed, and use automated time tracking to help save time.
Start using Time Clock Wizard today and experience how it helps you manage remote team activities!