It's a classic challenge many remote team managers face: how to build an effective remote team with a good working relationship. Fortunately, technology offers us access to some outstanding HR tools to make this vision happen. In this blog post, we'll take a look at the different tips and techniques on how to build your remote team using HR tools.
We will also take a closer look at how Time Clock Wizard, one of the leading options for remote employee management, helps you manage your remote workforce with ease. So if you're ready to learn about quickly setting up and utilizing powerful tools to empower your remote team, read on!
1. Provide Clear Guidelines and Set Expectations During Hiring
When building a remote team, the hiring process is the most crucial part. When it comes to remote work, providing clear guidelines and setting expectations at the beginning can make all the difference.
It is essential to have clear communication with potential remote employees at the outset. Setting out the guidelines and expectations on the table helps them understand what they are getting into and assess if they are prepared to join your remote team.
During hiring and onboarding, it should be clear to your new employees that you will use online tools such as Time Clock Wizard to help with monitoring and communication. Giving a day or two to familiarize these tools can also help your employees adjust and communicate their questions, if there are any.
2. Conduct Regular Team Meetings for Remote Teams
Keeping remote teams connected is an essential part of remote team success, which is why it's important to conduct regular team meetings. Through these regular check-ins, feedback sessions, or even just short conversations, all your employees can feel more comfortable with working together. Online channels empower your team to collaborate even without the physical presence.
At the same time, it's also an excellent way to ensure everyone is on the same page. These meetings also allow remote members to voice their concerns or ask questions. Using an internal direct messenger to communicate is also necessary for remote teams. Communication channels help ensure that remote team members can keep up with discussions and stay connected.
3. Set Up Reliable Communication Channels
Setting up reliable communication channels for your remote team brings with it the opportunity for connection and collaboration even when working apart. Building reliable channels, such as dedicated staff groups, allows remote teams to bond, develop company culture, and share ideas. Remote teams can foster connection with one another thanks to open communication channels that provide an important platform for team members to get together outside of the virtual workplace setting.
For simple announcements, you can use Time Clock Wizard's instant customizable mobile and email alerts. With a fully remote team, it's important that you can efficiently send messages or reminders to the employees and managers.
4. Use Time Tracking for Your Remote Workers
For remote teams, having a simple and effective way to track how much time each team member spends on tasks is critical to meeting company goals. Time Clock Wizard is an HR tool that can easily be used to ensure remote workers use their time appropriately.
From the manager's perspective, understanding who worked on what and when helps you understand your employees' work patterns. From transparency tools such as TCW, direct communication is easier as managers know what is happening in real-time. Using Time Clock Wizard sets remote team members up for success. Utilizing a time tracker allows remote teams to stay focused on the task – ultimately leading to improved workplace productivity and increased employee satisfaction.
Want your business to thrive?
Boost your team's productivity and efficiency ratings with time tracking!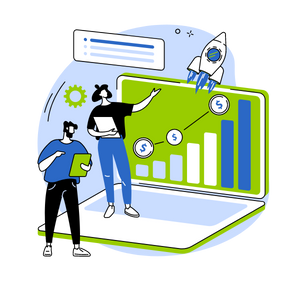 5. Maintain Engagement with Your Remote employees
Since you are operating on virtual teams, finding creative ways to keep your remote employees engaged and connected is important. Building a remote team entails that you also have time to connect on a personal level and experience fun together.
One of the most successful virtual team-building activities is virtual happy hour. Not only does this activity give employees a safe space to connect, but virtual socialization is actually beneficial for employee engagement. We want our remote employees to feel valued and appreciated, and virtual happy hours help us ensure they know just how valuable their contributions are.
Keeping employees engaged can also happen when you have set up a fool-proof tasking and scheduling system. With Time Clock Wizard, you can manage task assignments, schedule virtual meetings among members of different departments, and encourage conversation and collaboration between colleagues in different areas.
6. Invest In Your Team's Development
Investing in the development of the members of your remote team is crucial to management success. Research has shown that employees are likely to stay with the company if they are given the opportunity to learn, grow, and be challenged with work.
No matter where they are located, providing team members with opportunities to update and hone their existing skills will help your distributed workforce stay connected while being productive.
Additionally, investing in your employees' development is a sign of management benevolence and can give them a sense of appreciation that leads to higher retention rates and loyalty. Furthermore, having knowledgeable and well-trained employees also ensures that your company benefits from their expertise.
With the right HR tools, such as Time Clock Wizard, managers can easily oversee team performance as TCW collects data on work hours and provides a real-time picture of what your employee is working on. With this information, you can figure out which additional skills they may need. Remember to continue to invest in your teams' growth to keep on improving the productivity of the whole organization.
6. Build Relationships Outside the Office
Building relationships with work remotely can be a challenge, but it's well worth the effort. For remote companies, distributed teams, and work-from-home employees, having a successful work relationship is just as important as having close friendships.
To help your virtual team connect, find ways to foster meaningful interaction and ways to support each other through work challenges. Consider setting up video check-ins where everyone can make genuine connections beyond work topics, or create an online forum where people can share ideas and feelings informally.
Take the time to get to know your team members and find out what motivates them to do their best work. If you provide empathetic guidance and a harmonious work environment for your work remotely staff, you may find that productivity increases and the teams become closer than ever before!
7. Create Ways to Improve Collaboration
Building distributed teams and remote working groups is undoubtedly on the rise around the world. With this in mind, it's now even more important to focus on the human aspect of collaboration and look at creative ways to make sure distributed teams are able to stay connected and productive.
Using HR tools such as Time Clock Wizard can help streamline collaboration processes. For example, you can schedule two or more of your employees to work at the same time on a similar project.
There are other measures that can be taken for lasting success, as well. One element is creating mentorship programs across departments, connecting more experienced team members with less experienced team members to ensure everyone's questions are answered and ideas are heard. Coaching sessions provide another great way to increase communication – getting two or more people from different departments together on a task is a great way of learning from one another and building a successful distributed team.
8. Look into Software That Helps You Manage
When looking for software to help you manage your remote team, it's important to keep the size of your business in mind. Finding a system that brings out all the benefits a remote team can offer is key to making sure your business is successful.
Time Clock Wizard is one example of software that can help you create an environment where remote workers are supported and productive for maximum outcomes. With this software, it's easy to monitor, manage, and pay all your employees without any problems. TCW has certain advantages when building a virtual team, like investigating solutions that fit exactly what you need and making sense of what makes your remote teams motivated.
Conclusion
Having your remote team take their job seriously is one of the most important things you can do to ensure efficiency and maintain team morale. Setting clear guidelines and expectations, conducting regular meetings, providing reliable communication channels, investing in employee development, creating ways to improve collaboration, and using time-tracking tools such as Time Clock Wizard can all help build a successful and productive remote office.
Try Time Clock Wizard today to see how it makes working from home much more manageable. With its ability to track work hours by project, set tasks for each individual worker, and remind employees of tasks before they're due — utilizing Time Clock Wizard with your HR system could be just the game changer you need!