Working remotely in today's business world has its ups and down. Building and managing a virtual team can get tricky. However, with the right project management tools, virtual teams can collaborate effectively and get results quickly.
The success of all successful virtual teams lies in carefully planned tasks and time management. Time Clock Wizard, a cutting-edge employee time tracker, provides an easy-to-use system that allows team leaders to monitor their virtual teams and manage them efficiently from any time zones.
This article will provide an overview of how you can use TCW to create a successful virtual team and maximize your productivity.
Time Clock Wizard for Virtual Teams
Time Clock Wizard is a free online time clock that has everything you need in terms of employee scheduling, time tracking, task management, and payroll reporting. It is a system that you need for managing effective virtual teams and monitoring remote work.
With TCW, you no longer have to deal with confusion when it comes to scheduling remote employees with alternating work days. You can also pay their exact rates based on the hours they have worked and process reimbursements. Even if you have distributed teams, which may be assigned to different places, this online time clock can keep you all on the same page.
With its time-tracking feature, you can monitor when your remote team members clock in and clock out, helping you track their work hours accurately. You will also get when there are absences or late clock-ins. Even if there is no way to see your virtual employees, you are assured that you have data on their performance and progress.
Time Clock Wizard also allows you to send instant messages and email alerts. This is useful for real-time communication, which can help your virtual team members stay on top of your deadlines. You can also send alerts if you have a scheduled virtual meeting, team building, or video call.
Another great feature of Time Clock Wizard is its ability to generate payroll reports quickly. With TCW, you don't need to spend a lot of time creating payrolls through spreadsheets, which eases your work process. You simply have to click a few buttons, and your report is ready for your accountant to see. This makes generating direct reports easier for the members of the organization to see.
What Makes a Successful Virtual Team?
Virtual workplace thrives on trust, good communication, and team leaders that offers an avenue for collaboration. Successful virtual teams also put a prime on work-life balance, ensuring the team's success and everyone's comfort. With this in mind, clear expectations must be set in place for all remote employees to understand their roles and responsibilities.
Building a successful remote team starts during the hiring process. When recruiting, it is important to assess if the candidate is competent for the job, self-motivated, and a team player. You should consider how their skillset matches the nature of the virtual environment that you are planning to create. Ground rules should also be set before a chosen talent works for your company.
Once you have picked the best from the talent pool, the next step is to ensure that they understand the tasks that they are going to do, the communication style that you are going to employ for your virtual team members, and the tools that the company is going to using to track progress, and for virtual communication. Since you may seldom see each other in person, technologies such as online clocks can help you a great deal to be on top of your virtual work. If you are going to use Time Clock Wizard as an online clock for your virtual teams, you won't have difficulty navigating and instructing your virtual team members to use it. Members of your virtual team can clock in wherever they are.
To ensure transparency, TWC has the ability to see and control where, when, and what device your virtual employees use to clock in and clock out. You can also receive real-time notifications should there be unscheduled clock-ins or clock-outs. There is also a photo verification system at clock-in, ensuring that your employee clock in for themselves even if they are doing remote work. With these features, you can manage your virtual teams even if you are not meeting in person.
Identify the Goals and Objectives of Your Virtual Team
Identifying the goals and objectives of your virtual team is a big part of creating a successful virtual team. By clearly defining the mission, roles, and responsibilities of each team member, as well as the desired outcome of the project, everyone involved will have a better understanding of what needs to be accomplished and how.
Reminding your goals and objectives of your remote team every time you check in with them can help everyone to stay on track while. This is why virtual communication tools are a must for every remote team. Your virtual communication tools can range from instant messaging, e-mail, short alerts and updates, video call, and video chat.
Choose Your Project Management Tools
Choosing the tools that fit your needs can make a huge difference to the success of virtual teams. With the right project management software on your side, tasks are easier to distribute, team members can see exactly what they need to do, and progress is tracked in real-time. With the right tools, the hierarchy of tasks is set clearly, and your remote teams know what to do when they need to do it.
Project management tools like Time Clock Wizard help team leaders see the progress of their team. It provides an intuitive system that helps in time management and task distribution. Plus, your team members can access it using their mobile devices.
Aside from serving as an online time clock, Time Clock Wizard Pro also offers employee scheduling, a GPS employee locator, task management, and more. It's a remote work assistant that costs less and works quickly and efficiently.
Want your business to thrive?
Boost your team's productivity and efficiency ratings with time tracking!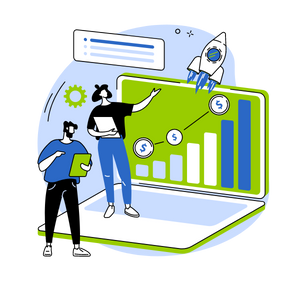 Conduct Training Sessions For Your Virtual Employees
Conducting training sessions on skill development is essential in order to build a successful virtual team. It is important to dedicate time in the early stages of virtual team building to focus on developing skills and educating employees on the tools and processes they will be using. This can include providing tutorials on the various collaboration tools available. Good thing, Time Clock Wizard is easy to use for your employees doing remote work. Once you have registered for a paid account, every tutorial you need to maximize TCW will be available. They also have a support system that can answer your questions regarding the software.
Take Care of Your Team's Well-being
Healthy remote workers are the cornerstone of your business success. As a virtual team leader, you have to ask yourself: how do my remote employees feel inside and outside of work? Managing virtual teams means ensuring that their mental and physical well-being is in the right state. This can get difficult since a person's body language tells a lot about his physical and mental well-being. But, with regular check-ins and effective communication, you can assure every team member that you care for them. If your virtual team members know that your company takes care of their well-being, they are more likely to perform their best, with less stress and with increased motivation.
It is important for employees to be invested in work and how it is done within the company culture, especially since remote work is largely different from going to the office. To have effective virtual teams, you have to provide them with the right communication tools, schedule regular virtual team building, and conduct training sessions for professional growth. As a team leader, you also need to conduct regular check-ins. This can be through virtual meetings or online written communication.
Your company culture should reflect a good social life for your employees, personal and professional growth, and financial wellness. You have to ensure that every team member is paid for exactly what they have worked for. With Time Clock Wizard, you can easily monitor the ins and outs of your virtual team members. It computes wages based on hours worked, ensuring financial transparency within the whole organization.
Build Trust Through Effective Communication
Trust is essential for a successful virtual team, and this can be built through effective communication. As a team leader, it is your task to help your virtual team feel connected and engaged with their coworkers and their jobs. Virtual teamwork is centered around trust, where virtual team members can express their thoughts and ideas without fear of judgment or criticism. Trusting each other improves team performance and aids your virtual teams to work effectively.
Building trust within the organization starts with you and how you communicate. Effective virtual teams look up to a team leader that walks the talk. If there is a team member that does not trust you, it can spell doom for your organization, and it would be hard to know if you have a dispersed team since there is no way to see their body language or how they respond to what you say. But you have to remember that with the right communication technique, you can build trust without seeing each other in person.
Some of the key components to building trust within virtual teams is setting clear expectations from the very beginning, having regular check-ins, providing feedback on their performance, and asking for your remote workers' opinions and ideas. As a team lead, you have to continuously improve your communication skills, learn to efficiently track work output, and think of effective collaboration techniques for your team.
Choosing to leverage technology for your virtual teams can also make a big difference in building successful virtual teams. Choosing Time Clock Wizard to help you track the activities of your remote workers, which can save you time to focus on more important tasks, such as developing a training program to hone skills that can boost productivity.
Some good practices for building trust within remote teams include conducting virtual meetings, holding training sessions, doing small virtual events from time to time, and utilizing communication technology for open communication.
Pay Correctly and On Time
Paying your virtual team members correctly and on time shows that you respect them and keeps your team motivated. This also tells them that you value their own work and their contributions to your business and that you want them to continuously be part of your team. If you don't pay them on time, it negatively impacts your business and gives a negative impression of your management technique.
Giving your employees their salary on time helps team performance and helps you keep the best talents for your virtual teams. Rightful salary is an incredibly important factor in how employees choose a place to work and how they conduct their work. Since your remote workers are a crucial part of your growing business, their salary gives them security and assurance that they can also grow with you.
When paying virtual team members, it is important to have a transparent payment system in place that is easy to understand and follow. Time Clock Wizard works exactly that way. Members of your remote teams can simply clock in and clock out. They know that their pay is based on the time they spend working remotely. You can generate a report, and they can easily see how their salary came about.
Celebrate Each Success of Your Virtual Team
Successful virtual teams celebrate! Celebrating the successes of your virtual team is essential for everyone to remain motivated and engaged. It helps to create a sense of unity and camaraderie, even when the members are physically separated by distance. Celebrations can be anything from holding virtual happy hours with music, snacks, and drinks to recognizing individual accomplishments or milestones achieved by the team as a whole. Some days, it only needs to be a short congratulatory message from the virtual team leader. Celebrating together allows for positive reinforcement of behaviors and practices that your remote employees are using that help achieve your goals. This encourages the team members to continue striving towards their objectives while having fun along the way.
Now You are Ready to Manage a Virtual Team Successfully
Managing a virtual team does not need to be difficult. You simply need to arm yourself with the proper management and communication tools. While remote teams can get tricky, especially if you are all working in different time zones, the right strategies can help your remote workers feel connected and engaged in their work.
Leveraging technology such as Time Clock Wizard for tracking activities and managing payroll will also ensure that everyone is paid correctly and on time which builds trust within the organization. With its automated system in place, you can save precious time to focus on other important tasks, such as developing online learning programs for your employees or improving collaboration techniques. By leveraging TCW to help build a successful virtual team online, you will be able to effectively manage the whole team with ease, even if they are at different remote locations. All of these measures will create an environment where your team members are motivated to do their best work, resulting in success for both them and your business.