As many businesses have adapted remote teams to keep up with the times, virtual team communication tools have become increasingly essential. This article will review 7 of the best virtual team communication tools for effective remote team collaboration and communication.
Virtual Team Communication Tools: How Remote Team Members Communicate Today
Remote team members face a challenge that may or may not be present in a traditional office setup – how to communicate with other team members. Without the benefit of face-to-face conversations, teams need to rely on virtual team communication tools to stay connected and ensure projects are completed successfully.
It can be difficult for virtual teams, especially those that are just starting out, to handle project management tasks or improve collaboration without the right communication tools. This is why many application developers have built virtual communication tools such as video conferencing, brief video call apps, project management tools, and more.
Businesses are also beginning to invest more resources to help their virtual teams improve their communication. For instance, many businesses prefer audio and video calls with the entire team to ensure everyone is on the same page. Some businesses also enable teams to do video and audio conferencing on their own, so they can quickly do screen sharing to share files and exchange ideas without having to wait for everyone else to join the call.
Another example of how remote workers communicate today is by using instant messaging tools. Through these tools, team members can assign tasks, gain feedback, monitor project management, and more without scheduling a video chat each time. Thus, while some businesses prefer video calls, others are more comfortable with other project management tools, such as instant messaging or emails. The important thing to consider is that team members are comfortable with the virtual team communication tool they use.
How to Select a Virtual Team Communication Tool
Before deciding which team communication tool will be the best fit for your remote teams, keep in mind that the number of users, pricing, and how the team works together should all be taken into account. There are many team collaboration tools, project management tools, team communication tools, and so on that can improve the efficiency of remote teams.
However, if you fail to take into account how your team prefers to communicate or what type of tasks they need to complete on a daily basis, you may find that the tool you've chosen doesn't actually improve communication at all! For instance, as mentioned, some virtual teams may prefer video conferencing tools, while others are more comfortable using instant messaging tools.
Thus, selecting the best team communication tool for your business needs and resources is equally important while considering how your team members can communicate with each other. You must consider some other factors when choosing among the best virtual team communication tools. Once you have considered these factors, you can start by looking at some of the best virtual team communication tools available today.
Usability
Ideally, you should select a virtual team communication tool that is easy to use and understand. In other words, the user interface should be intuitive and simple so your team members can easily access it without any issues.
Security
Security is the next factor to consider when selecting a virtual team communication tool. It's essential for your business to ensure that all data and communication are secure, so make sure the chosen tool is equipped with encryption technologies and other security features.
Always remember that virtual teams rely on only the best virtual team communication tools, but a big factor that makes these tools work is the ability to trust each team member. Thus, ensure that your team collaboration tool has security features in place to help team members feel at ease while also ensuring that any sensitive data of your business is secured.
Scalability
When selecting a virtual team communication tool, look for one that can easily scale with the size of your remote team. This will enable you to efficiently manage and communicate with your teams as they grow or shrink in size. For example, if you are using video conferencing software, you would want to ensure that it can accommodate larger and small teams to ensure that all your remote employees can participate in a video chat and share their thoughts.
Cost
Cost plays a significant role in choosing the right virtual team communication tool. Not all tools are created equal, so you should carefully consider pricing models before selecting one that fits your budget. In addition, some companies offer a free version or a discounted one of their tools to help businesses get started with their virtual teams.
Communication Features
Consider the type of features the virtual team communication tool offers. For instance, does it include a project management tool? Is it capable of hosting audio and video calls? Can it do larger-scale video conferencing? Is screen sharing an option to boost team collaboration? What about file sharing or the ability to assign tasks? All of these features should be considered when selecting the best communication tools for your business.
Benefits of Virtual Team Communication Tools
Once you've selected the best virtual team communication tool for your business, you can reap the rewards of increased efficiency, productivity, and collaboration. With the right tool in place, virtual teams can stay connected and easily share their ideas. Furthermore, with improved communication between remote teammates, tasks can be completed faster and more efficiently than ever before. Here are some more benefits of communication tools like video conferencing, video meetings, instant messaging, and more:
Challenges Involved in Building Remote Team Collaboration and Communication
While virtual teams can benefit businesses, some challenges come with managing them. Many team members may feel disconnected from their peers since they cannot interact physically. As a result, it is important for managers and team members to be aware of how to maintain trust and motivation in remote working environments.
Additionally, team members must be trained on how to use communication tools properly and effectively. Once they understand how the tools work, it's important to ensure that everyone uses them correctly so that progress can be tracked and collaboration remains successful.
Finally, businesses should also consider cultural differences in remote teams and ensure that everyone is comfortable with their communication style. Building a team culture that encourages collaboration and understanding is important so that all remote employees feel connected and part of the team.
Want your business to thrive?
Boost your team's productivity and efficiency ratings with time tracking!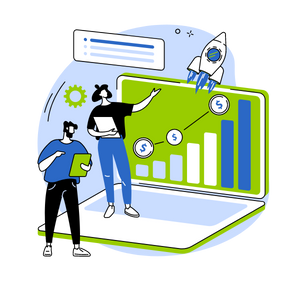 Best Virtual Team Communication Tools
1. Slack
Slack is the perfect solution for remote and team working, enabling you to communicate with colleagues while staying connected quickly. With Slack, complex projects can be managed effectively and efficiently, ensuring a smooth workflow.
Your team members can easily navigate this communication platform with key features such as real-time conversations, group chats, one-on-one messages, voice calls, and text message notifications.
Pricing
With Slack's many features, you will be surprised at how affordable the platform can be. You can opt to download the free version of Slack for working remotely, as it can provide key features that will help improve your virtual communication. For additional, more advanced features, you can purchase a paid plan that ranges from $6.50 to $12.50.
2. ProofHub
With ProofHub, you can easily bring your team together and maintain a seamless connection to ensure projects are completed on time and with excellence. The platform is the best communication tool for managers, allowing them to collaborate with their teams from any location or device for maximum efficiency.
ProofHub has more advanced features, making it one of the best tools for remote work today. These key features include the ability to manage tasks from planning to delivery, virtual notes, synchronized calendars, and more. You can also send direct messages and create group chats to stay in touch with each team member.
Pricing
With its advanced features, ProofHub doesn't offer a free version of the application. However, you can avail of a 14-day free trial upon signing up. After which, prices range from $45 per month for the Essential Plan and $89 per month for the Ultimate Plan.
3. Trello
Trello is another project management tool that is perfect for remote work. This application lets you collaborate with your teammates through Cards and Boards. Each card is a task that needs to be accomplished, while boards are used to track the progress of each card.
You can easily assign tasks, add due dates, and communicate with each other. Team members can also follow conversations and stay updated on changes to cards or boards. Trello also offers a feature called Butler that allows you to automate tasks, such as creating checklists and reminders for your team.
Pricing
Trello's free plan is perfect for small and medium businesses that are just starting out. You can add up to 10 team members and unlimited boards, cards, and lists. For additional features such as file storage up to 250MB per user or automated workflows, you can avail of paid plans ranging from $5 per user per month up to $17.50 per user per month.
4. Google Meet
Google Meet is a video conference tool for distributed teams that need to meet online. It is a platform to join or create meetings and collaborate with your remote teammates through voice, text, or videos. Google Meet has advanced features such as screen sharing, recording meetings, making international calls, and even blurring backgrounds for added privacy.
Pricing
Google Meet is free of charge, no matter how big your team is. All you need to do is sign up for a Google account. You can also enjoy additional features such as international calling or recording meetings for an additional fee.
5. Zoom
Zoom is one of the most popular video conferencing tools today. Many remote workers swear by the platform, making it arguably one of the best video conferencing software with an intuitive interface and advanced features.
The free version or Basic plan allows you to host team meetings with up to 100 members, while the Enterprise version (which is the most expensive) can host up to 1,000 participants! Plus, with all paid plans, you can enjoy features such as Team Chat, Mail, Calendar, Whiteboard, and Cloud Storage.
Pricing
Zoom offers four distinct pricing plans to suit your individual business needs: Basic, Pro, Business, and Enterprise. Select the one that is right for you based on the number of participants you plan to host as well as how much cloud storage space you require. You can start by installing the free version (Basic plan), or choose to upgrade to a paid version which ranges from $149 to $249 per year.
6. Microsoft Teams
Microsoft Teams is a powerful collaboration platform to help teams communicate and stay organized. With its intuitive interface, you can easily create channels for specific topics or project discussions with your teammates.
It also integrates with other Microsoft applications, such as Office 365 and Outlook, making it ideal for businesses that use these tools on a daily basis. Plus, you can host meetings with up to 250 attendees.
Pricing
Microsoft Teams is available for free for up to 300 members. You can also avail of the paid versions ranging from $4 per user/month to $12.50 per user/month with additional features such as audio conferencing and meeting recordings.
6. Asana
Asana is a task management tool for distributed teams that need to stay organized and on top of their responsibilities. You can create detailed tasks, assign them to members, set deadlines, and track progress in real-time.
It also integrates with other applications such as Slack, Zoom, and Google Drive for added efficiency. Plus, you can easily generate reports and even set up reminders for team members.
Pricing
Asana offers a Free plan with limited features and a Premium plan that starts at $10.99/month per user and up to $24.99/month per user, with additional features such as custom fields and priority support.
The Bottom Line
These seven tools are among the best virtual team communication tools you can use today. Whether you're looking for a platform to host virtual meetings or manage tasks, each tool can offer something unique to help you succeed.
However, it is important that you choose the right tool for your business needs. Consider the features and pricing plan each offers before making a decision. Additionally, it is best to use a time tracking tool to ensure that each team member is maximizing their work hours even while working remotely. Check out Time Clock Wizard's cutting-edge employee time-tracking services to boost efficiency and productivity within your virtual team.