Gone are the days when remote teams had to rely on emails and phone calls to stay connected. Nowadays, the best productivity tools for remote teams have taken project management to an entirely new level, allowing team members scattered around the globe to collaborate more efficiently and effectively than ever before. These tools provide a range of features that help streamline communication between team members, track the progress of projects, manage workloads, and much more. By leveraging these best productivity tools for virtual teams, employers can ensure employees remain productive no matter where they are located. In this article, we will discuss some of these best productivity tools specifically designed for teams working remotely so they can work together in an organized manner while staying connected no matter where they are located.
Top Categories of Productivity Tools for Remote Working
Productivity tools for remote team management are essential to ensure that projects and tasks are being completed on time. These tools can help team members stay connected, collaborate effectively, and manage their workloads efficiently. Many different categories of productivity tools are available, including project management tools, communication platforms, collaboration apps, and more. Each category offers its own unique set of features that can be tailored to best suit the needs of a particular remote team. By combining these various types of productivity tools in an integrated way, teams that manage projects for your business can increase their overall efficiency and effectiveness while working from anywhere in the world. The following remote team tools for productivity are grouped into categories according to their features:
Time Tracking Tools for Efficient Remote Work
Time productivity tools are essential for any remote team looking to maximize their time and increase productivity. They can help managers keep track of employee time, monitor progress, and ensure everyone is on the same page. Notable time productivity tools include time tracking applications, employee monitoring software, and project management systems, which allow teams to easily collaborate on different projects and tasks. Here are some of the best time tracking tools for remote teams this 2023:
Time Clock Wizard is a time tracking and employee monitoring tool designed specifically for team productivity. It enables managers to easily track time and attendance, monitor employee, and detect any time theft or time fraud. Time Clock Wizard also provides an easy-to-use system that allows employees to clock in and out with just a few clicks. Time Clock Wizard is at the top of the charts when it comes to the best productivity tools for remote teams.
Time Clock Wizard's features include:
Overall, Time Clock Wizard is a powerful tool that helps remote teams streamline their time tracking and employee monitoring processes while helping them maintain higher efficiency and accuracy.
Price
Time Clock Wizard offers an affordable pricing plan that fits businesses of all sizes. The Free version provides Phone, Chat and Email Support, and Remote Employee Time Tracking for an unlimited number of users. The Value package starts at just $19.95/month for an unlimited number of users, and adds Remote Employee Monitoring, Timesheet Reports, Android/iOs Mobile apps and manager SMS/email notifications to its features. The Pro package is available for $39.50 per month for up to 50 users. It adds Payroll Reporting, Task Management, Photo Capture at Clock In, Employee Scheduling, and a lot more other features.
Time Doctor is a time tracking tool for remote team management. It helps you keep track of time spent on tasks and projects. It also has other key features like time reporting, task management, website and app blocking, and screenshots.
Time Doctor's time reporting feature helps managers working remotely to accurately track time spent on tasks, projects, and activities. This time tracking capability allows managers to monitor the productivity of their team members, optimizing team performance and increasing overall efficiency. You can also study work patterns with the daily and weekly summary email reports.
Remote employees have generally found Time Doctor to be a great productivity tool for remote teams. It helps remote workers stay on task and keep track of their time more effectively, allowing them to accurately report their time spent on different tasks and activities. Many remote employees also appreciate the task management feature, as it allows them to manage all of their tasks in one place and get an overview of all tasks assigned to them. The website and app blocking capability is also highly valued, as it gives remote workers the ability to focus on their work without getting distracted by other online activities.
Price
Time Doctor's different pricing plans are tailored to remote teams of various sizes and budgets. The free version offers employee time tracking for unlimited users. The Basic Plan costs $7/month per user and includes Tasks and Projects, Unlimited Screenshots, and Activity Tracking. The Standard plan costs $10/month per user and includes all of the features from the Basic plan plus Slack integration and Payroll. The Premium plan goes for $20/month per user for all the features of the Basic and Standard plans, plus Video Screen Captures, VIP Support, and Internet Connectivity Report.
Project Management Software for High Productivity
Project management software helps remote teams stay organized and connected, no matter the location or time zone. It provides a central platform for teams to collaborate on tasks, track progress, and share resources. This type of software allows remote teams to keep everyone on the same page in real-time even if they are not physically together. Have a look at these project management tools available in the market:
Trello is a project management tool designed to help remote teams stay organized and productive while working remotely. The main features of Trello include boards, lists, cards, labels, due dates, checklists, and comments.
Trello is well known and popular among remote teams due to its simple, yet effective project management capabilities. Trello stands out from other project management tools with its visual boards and lists that enable team members to easily manage tasks and projects. Its Kanban-style project management focuses on creating a visual representation of the project or task. It utilizes boards, lists, and cards to represent project progress. Boards are used to separate project tasks into different sections, while lists allow users to organize tasks according to their status.
Price
Trello offers several different plans to suit individuals and teams of all sizes. The free plan includes unlimited cards, lists, members, boards and checklists. There is also the Premium plan which offers additional features such as priority support, simple data export, and custom backgrounds at an affordable rate of $10/month per user.
SmartTask is famous for its ability to streamline project management and collaboration for remote teams. It provides project managers with powerful features such as project timelines, project tracking, automated workflows, task dependencies and project analytics. Additionally, SmartTask offers a comprehensive CRM to help teams stay connected and engaged. Some key features of SmartTask include:
Price
SmartTask offers users a range of pricing plans to meet the demands of their remote teams. All users get unlimited users and projects for free, but for the advanced features users can go for the Premium plan which is $7/user per month. This plan gives users access to features such as task delegations, automated reminders and time tracking.
EngageBay is a project management tool that allows remote teams to collaborate effectively. It is designed to help project managers and team members track project progress, tasks and assignments, deadlines, communication, and other project details. With EngageBay, project managers can assign tasks to multiple team members in different locations while keeping everyone up-to-date.
EngageBay offers four main features to project managers and remote teams that enable them to work effectively.
First, project progress tracking allows project managers to monitor project progress and tasks as they are completed. This feature also enables project managers to prioritize tasks, assign tasks to different team members based on their availability and skill set, and review project performance analytics.
Second, EngageBay enables communication between remote team members with its in-built messaging system. This feature allows project managers to instantly share project updates with the entire team while still providing the flexibility for individual conversations that may be necessary for specific project details.
Third, task management is an important feature of EngageBay as it helps project managers keep track of project deadlines and assignments. Project managers can easily delegate tasks, set deadlines for each task, and also use the built-in calendar feature to create reminders for upcoming tasks or events related to the project.
Fourth, EngageBay's CRM feature allows project managers to record customer interactions and keep track of customer relationships. With this feature, project managers can easily organize customer information such as contact information, project status, quotations and estimates, project updates, delivery timelines, follow-up tasks and more.
Finally, EngageBay provides a file sharing feature which allows project managers to securely store documents related to a project. This includes everything from source code files, technical documents and presentations, data sheets and manuals, or any type of multimedia file associated with a project. With this feature, all project materials are organized in one place for easy retrieval by team members whenever needed.
Price
EngageBay offers a few different pricing tiers for small businesses. They offer a free version which provides project managers with access to project progress tracking, customer relationship management (CRM), communication tools, and project performance analytics. For larger businesses needing more features and functionality, EngageBay also has a Growth plan which costs $42.49/month per user. This plan adds these features in the plan: marketing automation, service automation, call records, custom domain, and push notifications. Additionally, there is also a Pro plan available for large organizations that need even more advanced project management capabilities. It offers project performance analytics, web analytics, custom reporting tools, Uptime SLA, and more. With the Pro plan, project managers can also access Phone support from the EngageBay team. The Pro plan costs $84.99/user per month.
Asana is a project management tool designed to help remote teams collaborate more effectively.
Remote managers like Asana because it provides an easy-to-use project management platform that allows them to keep their remote teams organized and on track. By creating tasks, assigning them to team members, and tracking progress in real-time, managers can stay up-to-date with project progress and ensure that everything is running smoothly. It offers four key features that make it an ideal productivity tool for remote teams:
Price
Asana's project management tool is available in both free and paid versions. The free version includes basic features such as unlimited task assignment, deadline setting, and progress tracking. The paid version starts at $13.49/month per user and includes additional features such as task templates, workflow builder, project timelines, and more.
Want your business to thrive?
Boost your team's productivity and efficiency ratings with time tracking!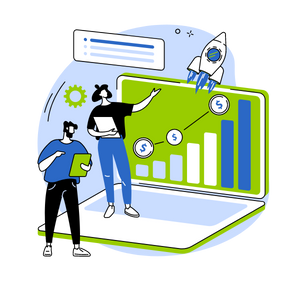 Software to Improve Team Communication
Communication tools help remote teams stay connected and collaborate efficiently. These tools provide remote employees with the opportunity to interact in real-time, allowing team members to keep track of projects, tasks and deadlines more easily. They also enable remote teams to stay organized by allowing them to set reminders, share documents quickly, review work together and assign tasks without having a face-to-face meeting. By utilizing communication tools, remote teams are able to increase their productivity by streamlining processes and reducing time wasted on unnecessary tasks. As a result, remote employees can focus on what matters most: getting things done quickly and efficiently. Among the best productivity tools for remote teams, the following are the communication tools you will need in remote working:
Microsoft Teams offers a comprehensive team collaboration platform that remote teams can use to stay connected and productive. It is an integrated suite of tools that provide team members with instant messaging, file sharing, task management, videoconferencing, and other features to support communication and collaboration within their team.
Microsoft Teams provides teams with the ability to integrate and access various Microsoft tools within the team collaboration platform. This includes allowing team members to bring in and use Office 365 applications such as Word, Excel, PowerPoint, and Outlook directly within the team workspace. Additionally, team members are able to connect their OneNote notebooks to the team's workspace for.
The innovative features that Microsoft Teams adds to remote work include the ability to host virtual meetings with up to 250 people at a time, share documents in real-time across team members, and create team channels for specific topics or projects. Team members can also access all of their files from any device with its cloud storage sync feature. Additionally, Microsoft Teams makes it easy for team members to assign tasks and monitor progress on their team project through its Task Management feature. Finally, Microsoft Teams provides powerful analytics tools that allow team members to track team performance and measure team productivity.
In summary, Microsoft Teams offers an extensive set of features designed to facilitate communication and collaboration among remote teams. Through its advanced capabilities such as meeting hosting, task management, cloud file sharing and analytics tools, Microsoft Teams provides teams with the tools they need for successful remote work.
Price
Microsoft Teams is free for those with an Office 365 subscription, which typically costs $6-12.50/month per user, depending on the purchased plan. For those without an Office 365 subscription, Microsoft Teams offers a free version with limited features, as well as a paid version that starts at $4/month per user and includes more features such as unlimited chat messages, 10GB of file storage per user, integration with apps such as Outlook and OneDrive, and video conferencing with up to 300 participants.
Slack is a powerhouse collaborative tool known for its intuitive UX. It is one of the best productivity tools for remote teams, rivaling Microsoft Teams in the sector of collaboration software. Both team collaboration tools allow users to quickly and easily communicate with team members, but they differ in their features and pricing plans. Slack is better suited for small teams that need basic communication capabilities such as instant messaging, file sharing and video calls. It offers four key features that make it an ideal solution for remote working:
Price: The free version of Slack allows users to send direct messages, create channels, have up to 90 days of searchable message history and make unlimited 1:1 voice/video calls. The Pro plan starts at $7.25 per active user/month. It includes unlimited message storage and access to advanced features such as guest access, group calls with up to 15 participants, and more. The Business+ plan provides additional security features, and data loss prevention, starting at $12.50 per active user/month.
Video Conferencing Platforms for Hosting Meetings
The best productivity tools for remote teams would not be complete without video conferencing tools for hosting meetings, conducting interviews, conveying important information, and even conducting remote team building activities for remote and hybrid teams. These remote work tools are essential for 'show and learn' sessions, location tours, company events, virtual break rooms, training sessions, and workshops. Listed below are the two best video conferencing tools for your remote team:
Zoom is the best video conferencing app for your remote team for reliable, large video calls. It is easy to use and makes meetings simple to set up. You can join meetings with just one click and share videos, documents, or pictures. It also has a chat feature so you can talk with people even when you are not in the same room.
Zoom is easy to use, and easy to share, which makes it a popular remote work software. Virtual teams can access its features like its screen sharing tool, breakout rooms, and virtual board in just a few clicks. Meetings can be recorded in a cloud storage platform and support for real-time transcription is also available.
Zoom has an impressive reliability. Its adaptive bandwidth optimization feature automatically adjusts video and audio quality based on the available bandwidth of your remote workers, allowing meetings to go through without interruption.
Zoom is perfect for working remotely, as it lets your remote team schedule video conference calls in advance, and send and calendar meeting invitations.
Price
Zoom is free for up to 100 participants for 40-minute meetings. Paid subscription starts at $149.90/year per user with the Pro plan, which includes user management, unlimited meeting length, and reporting.
With remote teams becoming increasingly common, Google Meet has emerged as an invaluable tool for facilitating remote collaboration and fostering a sense of connection between remote workers. Its simple but powerful user interface makes it easy to quickly set up and join remote meetings, while its suite of key features helps remote teams maintain productivity. Advanced features such as screen sharing, remote polling, messaging, and file transfers promote effective team communication and allow remote teams to interact with each other in meaningful ways from anywhere in the world. Additionally, its end-to-end encryption ensures that remote meeting data is always secure. With Google Meet, remote teams can easily check up on accomplishments, goals, and progress reports – all with just a single click. Moreover, this application works well with other G-Suite products like Calendar and Google Docs, making it an ideal platform for remote teams to stay connected and productive.
Two of its key features are the accessibility it provides via web browser and its clearer live captions. With one click, remote teams can join a meeting without worrying about device support. Its groundbreaking live captions automatically transcribe conversations in real-time, which is especially useful for remote meetings where audio clarity can be an issue. Any remote team needing reliable video communication should look into Google Meet's key features to ensure successful remote work.
Price
Google Meet is free for up to 100 participants and up to 60 minutes. Paid plan starts at $6/month per user as part of the Google Workspace Business Starter.
File Sharing and Collaboration Software for Productivity
Collaboration and file sharing tools have been an essential part of the remote team experience for years now. With the right software, these tools can be incredibly helpful in keeping everyone on the same page, no matter where they are located. Popular collaboration and file sharing tools such as Google Drive, and Dropbox allow team members to easily share files and documents, access project data from anywhere, and collaborate in real-time on tasks, saving time and effort.
Google Workspace is an all-encompassing online file sharing and collaboration platform specifically designed to help remote managers meet their productivity needs. With its comprehensive suite of business tools, Google Workspace can revolutionize the way you manage your projects.
At its core, Google Workspace provides a secure and efficient ecosystem that ensures your files remain accessible and organized on demand. Here are its key features:
Managers looking for an efficient multi-platform system have found in Google Workspace a valuable tool that guarantees the highest levels of functionality and secured data management whilst providing greater control than ever before. Whether it's for organizing important documents or for expanding client relationships through use of CRM integration services; look no further than Google Workspace to simplify your operations today.
Price
Google Workspace has a free trial period of 14 days. Its Business Starter plan costs $6/month per user, with access video meetings of up to 100 participants, and 30 GB storage per user.
Working with Dropbox is as effortless and straightforward as its name implies. With a single click, you can securely exchange large files across the internet with ease – no matter how far away your intended recipients are. As one of the oldest file-sharing platforms around, this tool has remained an indispensable resource for those needing to quickly share data in a secure environment while enjoying intuitive design features along the way.
Price
The free version gives 2GB cloud storage per user while the Plus plan goes for $9.99/month per user with 2TB cloud storage.
Choose the Best for Your Team
Remote teams require an array of productivity tools to ensure remote work is coordinated effectively. To make remote team members as efficient as possible, it is important to select tools that are intuitive, provide a range of key features and make collaboration between remote workers easy and secure. When your remote team has the right set of productivity tools in place, they can optimize resources and maintain a productive operating environment even when remote conditions present various challenges. Choosing the best tools for remote teams is an important factor to consider when creating an effective remote working strategy.