With an increased shift towards remote teams, businesses of all sizes are now more inclined to use time tracking tools in a team. At the same time, even in-house teams are seeing the benefits of using a time tracker for their business, as such tools help you see productive and not-so-productive hours. This data enables you to manage your team accordingly and drive your business to success.
Time Clock Wizard is one such platform that offers accurate and real-time data for time tracking and analyzing working time. In this blog, we will discuss the best practices to use time tracking in a team using Time Clock Wizard. With these tips, you can optimize its use to achieve the desired outcomes for your company.
The Importance of Time Tracking and Time Tracking Software
Time tracking is an essential tool for any business, big or small. It helps you keep an eye on how long employees are taking to complete tasks. Data from good time tracking software gives you a better understanding of areas in which time can be optimized to drive better productivity and results. A business that practices the use of automated time tracking software has the best time management practices.
Through time tracking software or time tracking systems like Time Clock Wizard, businesses can monitor employee time logging data, spot peaks and valleys in performance over time keeping track of, and even manage requested time off or vacation leave.
What are the Best Practices to Use Time Tracking in a Team?
In this article, we will look at how you can take full advantage of time tracking and know the best practices when using Time Clock Wizard. By simplifying the time tracking process with TCW, you can be sure that you are getting all your money's worth upon subscription.
With easy access to real-time progress of your employees and accurate time report, you can have insight and data to see an accurate picture of your business performance. Plus, aside from tracking time spent, Time Clock Wizard also helps in scheduling, tasking, and other HR tasks. Let's look at these best team management practices that can help you increase your company's performance.
1. Standardize Time Tracking for Multiple Projects
When talking about time tracking best practices, the first thing you need to do is standardize. When you standardize your process, there is less confusion between you and your employees, especially if your company handles big projects.
Standardizing also means having the same time tracking software across teams. The good news is that there is no limit to the users of Time Clock Wizard's free time clock. Now, you are sure that everyone is staying on task and achieving the best results.
If you plan to avail of the Value Plan of Time Clock Wizard, you get customer service support, remote employee monitoring and time tracking, plus timesheet reports at the tips of your fingers. You can even use this with android and iOS mobile apps.
Standardization of time tracking for projects can help set up uniformity across numerous teams. With Time Clock Wizard, you can set up clear rules on time tracking for activities, projects sub-tasks, and work categories. Time Clock Wizard's time-tracking system means that you can easily monitor time invested in each project, making it easy for you to measure the success of your team's efforts.
2. Inform Your Workers About Tracking Time During Working Hours
Time trackers can sometimes be an issue for several employees. There are times when they would feel like the monitoring is unnecessary and can be an invasion of privacy. Therefore, you have to inform your workers about tracking time during work hours and explain all the benefits that come with time tracking.
You can clarify these issues in many ways. Here are some of the things that you need to discuss with your employee when it comes to time tracking:
Only the working time is being tracked and not your personal time.
This means that the company is doing its best to keep you safe and your personal data secured.
Time trackers are there to help look at the progress of your projects and identify ways to improve the system.
This practice, in turn, can help you become better in your field of work and identify ways to make your work easier.
Time tracking starts when you start tracking. It ends when you clock out.
Beyond the working hours, the management is no longer tracking you and you can fully enjoy your time however you want.
Ground rules are in place to both protect you, the employees, and the company.
All these guidelines are there to work for both parties.
Here, we suggest Time Clock Wizard – a time-tracking software that can help log time, monitor projects, and track employee progress. With its sophisticated features, you'll have greater visibility on your projects. Take note: it's not only one project that you can monitor but several projects at hand. With this being said, make sure that all the team members are properly educated about time tracking. Give them an idea of the importance of time tracking for the whole organization and equip them with the knowledge they need to make time tracking worthwhile for everyone.
Want your business to thrive?
Boost your team's productivity and efficiency ratings with time tracking!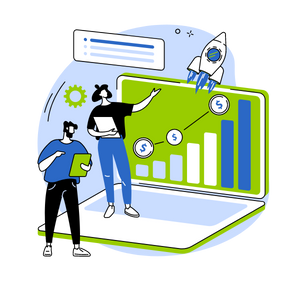 3. Train Your Employees on Time Tracking Software
Proper time tracking is a key factor in helping teams get tasks done quickly, efficiently, and accurately. Educating your team on time-tracking software can ensure that everyone is on the same page. Allot a day of training during the onboarding process to train your employees on time tracking software. Explain how to use it, what are the ground rules that you have set when they are using it, and the benefits that time tracking software provides.
Time Clock Wizard has a user-friendly dashboard. It's not complicated to use. Employees simply need to clock in and clock out, which only requires a few clicks. For the administrator, there are video tutorials available on TCW's website. Plus, you can contact customer service if you need help along the way.
4. When Introducing Time Tracking Ap in an Organization, Start with a Pilot Program
The introduction of time tracking in a company, whether small or large, can be quite a challenge. First, there might be confusion for both employees and employers concerning the dashboard. There might also be questions about the automatic clock in and clock out, finding the time entry, or figuring out how the time report works. But, all these can be solved with a pilot program where you can identify the time-tracking best practices to employ for your organization.
Once you have perfected the use of Time Clock Wizard for your organization, you can start the launch of its use for all your employees. Soon enough, you will enjoy the benefits you can get from such a helpful time clock.
5. Manage Absences
When time tracking your team, you have to make sure that everyone is on board. Manage absences, and manage the underuse of the time-tracking software. When implemented correctly, you can cut the hours you use to monitor absences. You can simply use the time tracking app to check who clocked in, who clocked out, and whose late.
Another great feature of Time Clock Wizard is its photo capture feature at the clock in. You can monitor and see if the right employee clocked in their time correctly. This is perfect if you have remote employees. First, it is a security feature for your employee, ensuring that they are in the correct place while doing the project under the company's time. Next, it assures that there is no case of employee fraud, where a different person logs in instead of your employee.
6. Set a project framework
Setting a project framework and time management system for your team can seem time-consuming, but it doesn't have to be. With Time Clock Wizard, you can easily create projects and time entries for each of your employees according to the tasks they need to complete. This way, you don't have to guess how much time your employees spend on each task or deal with inaccurate data. By using Time Clock Wizard, you'll be able to set up a simple and clear project framework that everyone can follow without cutting corners.
7. Analyze your time-tracking data
Keeping track of time is always a challenge, but it's essential to keeping projects on time and keeping an eye on your team's progress. Time Clock Wizard can help make this easier, letting you monitor how each person is doing in relation to the project milestones. By analyzing the data collected through these tools, you can determine which areas may need additional resources or attention. You can also significantly identify peak times when employees are most productive alongside times when output drops off. With this knowledge, you can make better decisions for allocating resources, increasing efficiency, and keeping staff focused on developing their skills.
8. Make the Best Out of Employee Monitoring
When you monitor your team using Time Clock Wizard, you have more time to do other management tasks. Time tracking best practices – make the best out of employee monitoring and let Time Clock Wizard do it. You simply have to check the data generated in the timesheet reports. You can also 'visit' the employees virtually as TCW offers a real-time view of your employees' screens, giving you the freedom to see what they are working on. At the same time, they don't feel invaded by a physical body hovering over them.
9. Get the best time-tracking software
While there is a lot of time-tracking software in the market, Time Clock Wizard ensures that it gives you the best service for the best price. So, if you are looking for the best time-tracking software, get Time Clock Wizard.
Time Clock Wizard is the perfect solution for team management – no matter what size team you have. With Time Clock Wizard, team leaders can easily track team members' time and manage team resources. This software allows team members to clock in or out on any device, such as a smartphone, tablet, or laptop – making it easy to track time accurately from wherever. For total peace of mind, you will receive reliable and accurate reports ensuring your team members' work hours are accounted for.
10. Encourage Every Team Member
In time management, recognizing and understanding time-tracking habits can bring out the best in your team. An automated time-tracking tool that emphasizes settling into a good workflow is vital to engagement.
Time Clock Wizard contributes to team productivity, especially when everyone is all into improving processes – thus resulting in a more efficient work culture. You can ensure that your team motivates each other to do their best by creating an environment where encouragement is applauded. It's a win-win situation – when everyone has each other's backs, trust builds, and you ultimately receive positive results.
11. Use the data for your future projects
Gathering time-tracking data and using it to look into your company's track of progress is a great way to ensure that future projects are successful. Again, it can give you valuable insights into the time it takes to complete different aspects of projects.
The effort you put in now to gather this data, analyze the data, and plan based on your results, will provide invaluable information that can help your team work smarter, improve time management and foresee the best way to go about your projects.
12. Provide insight into project progress
Numbers never lie, and in business, numbers tell you the status of your company, no matter what may be your perception of it. Time Clock Wizard removes all the guesswork and inaccuracy in project management, providing you with insights into your project progress. With the data it provides, you can adjust accordingly should adjustments be necessary.
13. Concentrate on team management
Once you have Time Clock Wizard on your team, you can concentrate on team management – a crucial aspect of the organization. This automation allows you to check on your team's working hours and allows your employees to communicate directly with you for schedule changes or questions. They don't need to go through another individual, making you more visible and approachable in their eyes, which creates a sense of trust and cooperation between employee and employer.
Since TCW eliminates the need for you to spend time on generating reports and tracking employee hours, you can use more of your time to address other matters concerning team management. You can start working on skills development training, mentorship, and coaching.
How to Start the Implementation
Time Clock Wizard lets you get a big picture view with summarized time-tracking data that's easy to analyze. No more messy paperwork or manual calculations: Time Clock Wizard takes care of it all! Let this sophisticated software make your time tracking practice more time efficient and stress-free for you and your team so your hard work can pay off.
If your team is ready to start implementing the best practices using Time Clock Wizard, here are some guidelines you can keep with you when you start the implementation.
Policies and guidelines about what is to track and what is not to track
Establish clear policies and guidelines about what should be tracked and what should not be tracked. This practice protects both you and your employee. Again, remember that as an employer, you have the right to see what they are working on during their billable time. Any time beyond that is your employees' own.
When you have clear policies and guidelines on privacy, work tracking, and team management, your employees trust that they are in a safe environment. Plus, it saves you from probable conflict on data privacy.
Time Clock Wizard is an excellent tool to track the hours of your employees, however it's important that they clearly understand why their work hours are being tracked and how this data is used. This can prevent any feelings of intimidation or breaches of privacy within the workspace. It's also important to remember that you only track the time of your employees during their working hours, without invading their personal life outside of work. Having those policies in place solve any potential questions that might arise and maintain a harmonious atmosphere among colleagues.
Choose time-tracking software wisely
When it comes to tracking time, businesses need to choose their time-tracking software wisely. The right tracking software can make all the difference when it comes to making sure everyone is on the same page with managing time. It just makes sense to use Time Clock Wizard as it follows best practices in terms of gathering and managing your time-tracking data. It also provides other services such as PTO report generation, remote work management, and more.
With this possibility at hand, you can make sure that every member of your team has a good understanding of what works best for them as well as for the collective success of the company as a whole. In turn, you get a stronger and more efficient workflow.
Review and analyze the data collected from time tracking
Analyzing the data collected from tracking time is essential to understanding and improving workflow processes. When you practice these, you learn how to tweak your work process to make it more efficient.
When you know your numbers, you can easily change them to your advantage, creating fewer and fewer errors along the way. So, continue reviewing and analyzing the data you collected from time tracking.
With the help of specialized tools like Time Clock Wizard, tracking time becomes easier and more insightful. The best practices for using time tracking in a team consist of tracking expenses, monitoring results over time, and tracking the labor costs to deliver projects on time with accurate budgets. This data can be used to review performance trends, identify areas needing improvement and ensure everyone is productive in their daily tasks. By leveraging the power of technology and tracking time accordingly, teams can get tremendous insights into their overall workflow processes.
Why your team needs a time tracking system
Having a time-tracking system in place for your team is essential for ensuring time management and organization. With a time tracking method and the ability to keep track of time easily, team leaders can manage their teams better, promote efficiency and productivity, and ensure that everyone is working hard throughout their allotted hours.
Time Clock Wizard is one such time-tracking app that allows team members to clock their own time manually from wherever they are, making it easier to track time for both in-house employees and remote work employees. Utilizing its time-tracking best practices will also help you get the most out of every minute of your team's work time. So if you're thinking about ways to optimize your team's performance, investing in a time-tracking system for your crew should definitely be in the cards!
Increased Employee Productivity levels
Utilizing the time-tracking best practices with Time Clock Wizard assures you of increased employee productivity levels. It also reduces the burden of the management doing everything manually. With time tracking tools such as Time Clock Wizard, managers get to keep a detailed record of their employee's time spent working, study this, and make adjustments to increase employee productivity levels.
TCW makes time tracking far more effortless than manual time cards or doing time tracking by hand in spreadsheets. It also increases the productivity level of the management, as both you and your employees have more time to do specialized and specific tasks for the organization. By utilizing time tracking tools such as these, managers can employ good practice on different tasks within the company.
Improves Employee Performance
An automated time-tracking system like Time Clock Wizard is a great way to improve employee performance. With easy access to a team member's work progress anytime and anywhere, managers can easily view the team's performance and status of work. The management can also easily decipher when their employees need help.
Automated time tracking software such as Time Clock Wizard, simplifies managing your employees' hours and activities. With automated time tracking, managers are given powerful insights into employee attendance and performance so they can optimize performance and ultimately boost productivity.
Ease in Project management
Managing team projects can feel like an overwhelming task, but with the right tools, it can be made quite easy. Time Clock Wizard is great for team members to keep track of their time entries and streamline projects. This time tracker helps manage time wisely and accurately so that you have a better understanding of how long it takes team members to complete even the most complex tasks. With all this data tracked, you will be able to better recognize and evaluate team members' strengths and weaknesses, making future projects even more successful. The use of Time Clock Wizard ensures efficient team project management from start to finish.
Productivity analysis
When implemented correctly, you can use Time Clock Wizard to conduct productivity analysis in all aspects of your company's operation.
When implemented correctly, you can use Time Clock Wizard to conduct productivity analysis in all aspects of your company's operation. TCW is a powerful and valuable tool for your company with its capacity to generate accurate reports on employee time, salary, taxes, PTO, and more.
Time Clock Wizard for productivity analysis
When using TCW, you can be sure that you are having fewer and fewer errors as you go along with your company's operations. It provides you with multiple ways to analyze productivity and improve your time-tracking process.
If you're looking to up team productivity and get the most out of each team member, investing in a time tracker like Time Clock Wizard is a great place to start. It also allows you to analyze trends and behavior of team members so that you can plan better for future projects. Plus, setting up and integrating the time tracking process is super simple and easy, thanks to extensive help guides available on Time Clock Wizard.
Monitor the active time of employees
Keeping tabs on your team's time has become easier than ever with time-tracking methods like Time Clock Wizard. With their time tracking feature, you can quickly and easily monitor the active time of employees. Seeing who is out of the office, when they take a break, or if an employee needs assistance can be easily tracked with this time tracker. This time-tracking practice helps teams stay on task while keeping track of time effectively without a hassle!
Improve business processes
Time tracking is an essential part of improving business processes and saving time. With manual time tracking, it's difficult to keep track of time for the same task over time. That's where Time Clock Wizard comes in. This time-tracking method allows businesses to accurately track time for numerous employees doing the same task. It also gives you accurate data so you can efficiently give feedback on how each employee is performing. It's a great way to save time and create a more efficient work environment.
Automatic time trackers vs Manual Time Trackers
When it comes to time tracking practices and measuring billable time, most businesses opt for more efficient solutions, like time clock software. Instead of manually tracking time and risking errors, automatic time trackers provide a comprehensive overview of each employee's work time.
For example, Time Clock Wizard helps teams track working time accurately and conveniently, making it easier to manage time-sensitive projects. With time clock software, you can easily monitor performance while ensuring that both employers and employees get the most out of their time.
Wrap Up
Time tracking is a crucial tool for every business, no matter its size. It allows for the efficient management of people across departments and tasks, big or small. With the right system in place and clear policies in effect, businesses can ensure their teams are accountable for the time spent working on different projects, which eventually leads to increased productivity and improved morale. Time Clock Wizard is a perfect example of an efficient platform that helps save time while tracking attendance, absences, overtime, and managing team productivity levels. Try it out now and start seeing your business rise beyond your projection!