We are seeing an increasing trend in remote work as companies continue to shift, especially during the middle of the pandemic. In the past few years, we have seen and experienced the fast-paced shifting of offices to remote work. This is an inevitable trend as companies and workers see its numerous advantages.
Companies that have shifted from office work to remote work have adapted work-from-home policies and keeps on finding ways to make remote team management work for their operation. This evolution in company processes also posed a challenge to company leaders and managers. How then, given the situation, can they maximize work engagement and output without seeing their remote teams?
Successful remote team managers have implemented several strategies to perfect remote management, such as being an expert on communication tools, setting clear expectations, building a remote tech stack, and maintaining a healthy remote office culture. Good thing, project management softwares like Time Clock Wizard offers vast services for managing employees working remotely.
It takes a different set of skills to manage remote employees and in this article, we will discuss the 7 best practices that will ensure a productive and harmonious remote working team.
Pros and Cons of Working Remotely
As with every process, remote work has its pros and cons, but it was proven to have the same level of productivity as with working from the office. This is exactly why a lot of companies chose to shift or remain to remote working teams even when some are already returning to the offices.
Pros:
Remote work improves the ease of doing work, both for businesses and employees. It provides better work-life balance, helps save time and money, and promotes healthier lifestyle for your remote workers and project managers.
Remote employees would not have to travel to their workplace, and remote leaders would not have to pay for office space. Remote teams can schedule their work hours according to their own pace. They can bring their work anytime and anywhere.
The flexible hours and ease of remote work provide opportunities to spend more time with family and friends both for remote managers and remote workers. This is possible with the advancement of technology and the development of productivity tools like Time Clock Wizard.
Time Clock Wizard, as a project management software, can easily assist remote managers to track schedules of their remote workers, manage tasks, and generate payroll report. With Time Clock Wizard, all these can be done to manage remote workers even while you are on the go.
Remote work allows you to hire better talent globally and maintain an efficient organizational model. A remote working environment removes geographical restrictions, allowing companies to hire full-time and part-time talent from multiple time zones. Diversification of the workforce and increased cultural literacy boost creativity and innovation. Global reach also helps in brand recognition and raises the quality of hiring.
The trend in organizations that utilizes a remote work environment shows a shift in organizational model from a vertical process to a more horizontal approach to hierarchy. The use of an efficient tech stack for team meetings, remote team building activities, remote communication, managing virtual teams, and other company matters, helps team members learn to communicate efficiently and lessen unnecessary misunderstandings. With the horizontal approach to an organization model, all the remote employees feels equally essential and workflow efficiency also improves.
Cons:
While working in a remote environment has many advantages, it also has some drawbacks. This includes:
the need for high self-discipline,
the absence of physical boundaries between work and leisure,
heavy dependency on technology
Reduced teamwork and fewer social interactions in a remote setting are also some of the major disadvantages, as these affect overall productivity and employee mental health, respectively.
With the pros and cons of remote work considered, each organization must adapt and discover its own way to tailor fit to its needs. This article will identify the best practices for managing remote teams.
What Are The Best Practices For Managing Remote Teams?
You want your remote team to work cohesively, which can be challenging for remote teams. As a remote manager, you can come across diverse challenges in managing remote employees that are in different places. So, what are the best practices for managing remote teams?
1. Set clear expectations for all the employees working remotely
Each remote team member has to know their exact task up to the smallest detail. When onboarding a new team member, you have to set clear expectations – what are the things that they need to do and NOT to do. The sooner you lay down these expectations, the better results you get.
When doing this, encourage team members to ask questions to see if you are both on the same page when it comes to workload, schedule, and tasks. During onboarding, it is best to clarify standard operating procedures, communication preferences, working hours, which time zones you use, and how often will you hold virtual meetings. Make sure your expectations are reasonable enough for your team to balance their time between work and life, thus avoiding burn-outs and exhaustion. Make sure you have metrics that measure these expectations and that you get to check on them often.
Employee onboarding is the most crucial part for your company. During onboarding, make sure you lay all the cards on the table for your new remote team members to see. Ask all the necessary questions that can help you get an overall view of how they will do the work assigned to them while they work remotely. Ask them for possible roadblocks that they may encounter and how the company can help them should they meet such roadblocks. During the onboarding process, you have to be clear that your employee can trust you as their manager and that you are trusting them to be a reliable team member.
2. Communicate, communicate, communicate
In any type of relationship, whether it be personal or professional, communication is key for harmony, especially if you are working away from one another. In leading remote teams, communication is not enough – you have to overcommunicate to remote workers. But what does that mean? Since you are working without seeing each other, there is no way to see important communication cues such as body language, sentence tones, reflexes, and immediate reactions to things you are sharing with them. When you manage remote teams, it is necessary to update on their status as often as possible. Never miss the chance to greet remote team members "good morning" when starting your work day, and make sure that they know the exact time that you are available for the team to have conversations, and make sure you know their work schedule up to the last minute.
Being a part of the remote team also means that you should build trusting relationships with one another and believe me, e-mail is not enough. You have to have different channels for communication when you manage remote teams. Without the benefit of face to face interaction with a warm body on a usual basis, having different types of communication channels can allow you to fill in those communication needs. You can establish a different use for each communication tool. With instant messaging, you can chat with someone for a quick update or share jokes and memes with other team members. You have to have meeting tools to be able to meet anyone within your remote workforce. Remote collaboration tools also allow you to see updates on your team member's progress. At first, it may seem a little too much but it is exactly what remote teams need to ensure that everyone knows everything they need for your team to do its best.
3. Build an efficient remote working tech stack
To ensure a seamless flow in you in your remote team management, your company needs to have a reliable remote working tech stack. An efficient tech stack empowers your team to work better and smarter, making sure nothing is amiss and everything is perfect up to the smallest detail. While there are countless technologies and companies that offer ease for remote management, building the best working tech stack for your team requires planning. Your tech stack has to address your exact needs for communication, file storage and management, and online collaboration.
The project management tool that you choose for your business spells out how your team addresses their remote work and how they build their relationship with other team members and the company. Definitely, a comprehensive project management software like Time Clock Wizard is essential in managing teams while working remotely.
Want your business to thrive?
Boost your team's productivity and efficiency ratings with time tracking!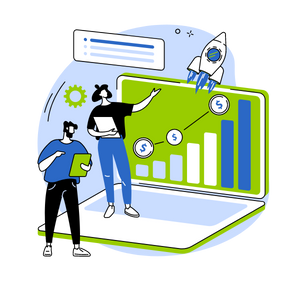 4. Schedule regular check-ins
Checking in with your team on a regular basis provides an opportunity for engagement between you, your team member, and the company. Scheduling regular check-ins allows your employee to share updates on the projects that they are working on and the hurdles that they may be encountering. It is also an avenue for you to give feedback and suggestions. Regular check-ins are a way for you to be present with your remote team, for them to know that you listen to their ideas and care for their welfare. It is also the time when you get to learn from each other, see possible points for improvement, and devise ways for you and your team to grow better. During these times, you get to develop your trust between one another and get to learn more about each other.
5. Provide a way to collaborate
Collaboration is crucial for teams to work. As a remote manager, it is your task to think of the best ways your remote team can collaborate and bounce ideas around. What is good about a remote team is that each person has a different set of skills that they can bring to the table. Providing ways for your remote team members to collaborate juices out the best of their individuality, making your team unique and your team-mates well appreciated. Always ask them for their ideas regarding the projects that you are working on. Make sure that everyone is given the spotlight and their voices heard.
6. Build a culture of accountability and transparency
Any team that is centered around a culture of accountability and transparency gets the job done efficiently. A culture of accountability and transparency in your team should be a pillar of your team. But how do you do this? This practice starts with you. You have to show your teammates that you are transparent with your work and that you take accountability all the time. As a manager, you have to give credit where it is due and you know how to be empathic when resolving professional issues. Make sure that they can communicate with you and trust that nothing is taken personally when it comes to work.
7. Maintain a strong company culture
Company culture is like a flag your team will march to, setting their direction and influencing their decisions. It defines your company's vision, mission, values, and principles that your employees will uphold and identify with. A strong company culture will help your employees thrive as a team despite the geographical boundaries of remote setting.
Remote teams should have a strong company culture because:
it gives a clearer view of your company's purpose
it shows employees what separates your organization from your competitors
it defines your company's way of doing things
it inspires employees to contribute to your organization's future
Remote teams develop a greater sense of accountability in their employees when a solid company culture is instilled. When teams know that there are people counting on them and that their contribution is essential to the organization's success, they are less likely to slack off or dilly-dally. A solid company culture is also essential in retaining remote talents.
Building a strong remote company culture sure does take more effort than in a traditional office, as team-building activities, shared experiences, and in-house collaboration are more limited.
To get your team on the same page, here are some remote company culture ideas you can use:
Define, share, and keep updating your company culture. It should outline your brand story, mission, values, goals, and communications protocols. Have it encoded in a document, a slideshow, an infographic, etc. This will be incorporated in your remote job listing, onboarding new remote employees, and strategic planning of your company's next move. It should be accessible to all your employees so they may be able to refer back to it anytime. Do not forget to check in and update it according to your company's growth and the team's learning.
Let your remote workers know how much you value and appreciate their contributions. When you give them praise and recognition, your team is much more eager to contribute to the organization's purpose.
Main Takeaways
There is no going back. Working remotely is the trend, and remote teams are here to stay. Who wouldn't love to have more time for leisure, family, and hobby? It will only get better and more efficient. Technologies will evolve, centering around remote work.
As a manager, you must keep adapting to the changing times to protect your company, employees, and customers. While there is a lingering idea that we will go back to 'normal', remote work is a permanent fixture that countless companies are already adapting and looking into. It will only get better from here.